Plusnet - We'll do you proud

Got a question? Call us on
0800 432 0200
Need help? Give us a call
0800 432 0200 - (from landlines)
Free to call from landlines, chargeable from mobiles. Rates vary depending on your network and call plan.
0345 140 0200 - (from mobiles)
This is charged at the same rate as landline numbers, when calling from mobiles.
Sales: 8am-9pm Monday-Friday, 9am-9pm weekends
Support: All day every day
Day or night, we're always working hard to make sure that our customers get the very best.
Customer satisfaction to be proud of
A recent independent survey shows that our customers are more satisfied than those of Sky, Talk Talk and Virgin.
UK-based customer service 24/7
We're open 24/7, 365 days a year. It's free to call from landlines and mobiles with inclusive minutes. Contact us.
We're a Which? Recommended Provider
We've been awarded 4 stars for customer service, technical support, connection reliability and value for money. See all our awards.
We're here to help, with phone support, setup guides and self-service tools
Member Centre

Help Assistant

Support guides

Community

Phone

Twitter
Survey Results
"Thinking about the brands you are currently with, overall how satisfied are you with [brand]?"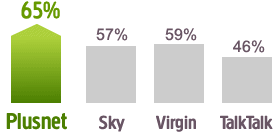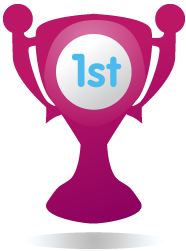 Survey background
GfK NOP is one of the largest Market Research providers in the UK, they conduct a monthly survey of adults in Great Britain comprising 1860 interviews.
The survey covers attitudes to services provided by a range of communications suppliers, with an area of focus being customer satisfaction. Survey results are weighted to represent the profile of all adults in the UK.
Source: GfK Consumer Attitudes Tracker February 2012 - January 2013. Customers surveyed for each brand as follows: Plusnet (629), Sky (8275), Virgin (6397), TalkTalk (3685).
Switching to Plusnet
We've made it a doddle to change to us from your provider.

Find out how
Packages guide
All the info you need to know about our broadband and phone packages.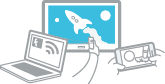 View packages guide