Plusnet - We'll do you proud

Got a question? Call us on
0800 432 0200
Need help? Give us a call
0800 432 0200 - (from landlines)
Free to call from landlines, chargeable from mobiles. Rates vary depending on your network and call plan.
0345 140 0200 - (from mobiles)
This is charged at the same rate as landline numbers, when calling from mobiles.
Sales: 8am-9pm Monday-Friday, 9am-9pm weekends
Support: All day every day
We'll get you up and running with our award-winning service in just a few days. Simply follow these three steps.
Choose your package and place your order

Check out our packages and choose the one that suits you best, then order online.
We'll need your MAC Key to switch your broadband to Plusnet. If you don't have one yet, don't worry. Just call your current broadband provider and ask them for one.
You can sign up without a MAC Key, but you'll need to submit it online once you've got it or, if we have your mobile number, reply to the text message that we'll send you.

We'll contact your provider

This is the easy part. Sit back, relax and leave it with us.
We'll get in touch with your current provider and let you know when we've sorted out your switch date.
If you need a new phone line, choose a convenient time and we'll arrange for an engineer to install it for you.
We want your switch to be smooth, meaning no disruption to your broadband. If you've taken a phone package you should be able to keep your number.

Switching to Plusnet

If you ordered a Plusnet router, it'll arrive in the post in time for your switch date.
We'll let you know when the switch is finished - all you'll need to do is set up your router (we'll provide full instructions for this). You'll then be connected to Plusnet.
Packages guide
All the info you need to know about our broadband and phone packages.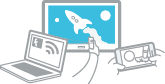 View packages guide