Why compromise on value or service?
Some providers offer cheap broadband…but not everyone can offer great customer service too. At Plusnet we take pride in delivering low priced broadband with great service, going that extra mile to look after our customers.
More satisfied customers
We continue to lead the way on satisfaction, that's why our broadband customers are more satisfied than Sky, Virgin and TalkTalk. Take a look at the results of an independent survey:
"Thinking about the brands you are currently with, overall how satisfied are you with [brand]?"
Plusnet

Sky

Virgin

TalkTalk
Survey background
GfK NOP is one of the largest Market Research providers in the UK. They conduct a monthly survey of adults in Great Britain comprising 4500 interviews per month.
The survey covers attitudes to services provided by a range of communications suppliers, with an area of focus being customer satisfaction. Survey results are weighted to represent the profile of all GB adults.
Source: GfK Consumer Attitudes Tracker April 2017 – March 2018.
Percentages represented in the columns in the above chart are as follows: Plusnet (70%), Sky (62%), Virgin (62%), TalkTalk (52%). Broadband customers surveyed for each brand as follows: Plusnet (2,752), Sky (13,181), Virgin (11,987), Talk Talk (6,223).
Award winning
We continue to deliver outstanding service, recognised by the awards we've won for customer service, technical support, connection reliability and value for money.
We're here 365 days a year
You can contact us in a number of ways, over the phone or online via our website, social media or our community. Our award-winning customer support team are on hand 365 days a year and always happy to help. It's free to call from landlines and mobiles with inclusive minutes. Contact us.
There's much more too...
You can check your bills, broadband usage and itemised phone bill online. It's also easy to get online support through our live chat, set up videos, guides and FAQs.
Join us today
Switching to Plusnet
We've made it a doddle to change to us from your provider.

Find out how
Packages guide
All the info you need to know about our broadband and phone packages.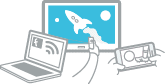 View packages guide