Summary: Find out how automatic hardware setup is possible thanks to TR69.
Automatic hardware setup is possible thanks to a system called TR69. Read on to find out more about how it works.
1. What is TR69?
TR69 (actually TR-069 CPE WAN Management Protocol) is a set of rules that allows a broadband router to connect to the Internet automatically.
Maybe the hardest part of setting up a broadband service is putting your account details into the router's control screen. This is no longer the case, the broadband routers we now supply (as of 15th July 2009) will set themselves up automatically when you plug them in.
[Top]
2. Which Plusnet supplied routers support TR69?
All routers sent out since 15th July 2009 support TR69.
At the moment this includes:
Thomson 585v7
Thomson 585v8
SpeedTouch 516v6
[Top]
3. How does TR69 work?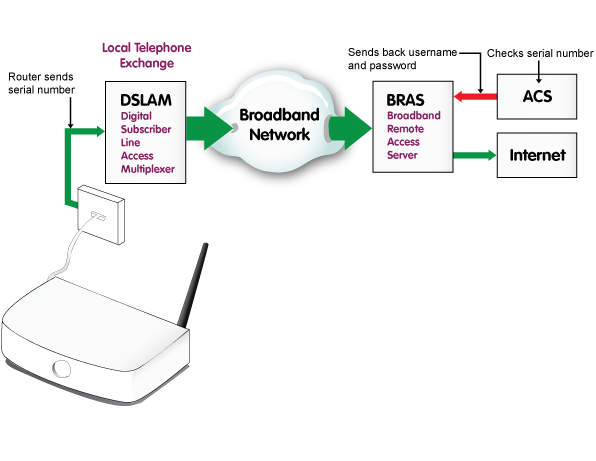 Your broadband router is delivered. Once we've confirmed that your broadband is ready to use, plug in your router and switch it on
Your router automatically connects to our ACS (Auto-Configuration Server) and passes its serial number
The ACS uses the serial number to find your broadband account
Your account details are sent back your router and written into its settings
Your router restarts itself and connects to your broadband account - setup is complete
If there's a problem, (e.g. the ACS can't find your account details), when you open your web browser, you'll be asked to enter your account username and password (Your Account username and password are the ones you log in to this website with).
[Top]
4. Is my account information secure?
TR69 is very safe, and doesn't expose any of your personal information to the Internet. The connection between your router and our ACS is secure, so data can't be read by others. Also, your router will only accept setup information from our ACS, which makes it practically impossible for a malicious server to change your router setup.
[Top]
5. Can I turn off TR69?
Yes, go to Automatic Router Setup (it's under Connection Settings in My Account).
Switching TR69 off will mean that you'll have to configure the router when setting up.
Please note: a factory reset of your router will switch TR69 back on.
[Top]
This page last updated 15th February 2011