Broadband
Master socket guide
Summary: A guide to the different types of BT Phone socket.
To find out about master sockets, you can read the guide below or watch our support video.
1. What's a master socket?
A master socket is a square, white socket that's fixed to one of the walls in your property. It represents the point where the telephone line enters your property and where your broadband signal is at it's strongest. All other sockets and extensions within your property are connected to it.
Not all properties have one (older properties often have a junction box), but if yours does it'll look like one of the following:
| NTE5 socket | LJU socket | ADSL Faceplate |
| --- | --- | --- |
| | | |
| A single socket on a flat face-plate, with a recessed line and a BT or Openreach logo in the top left corner. | A single socket on a non-removable face-plate. LJUs closely resemble standard extension sockets. | Two sockets on a raised face-plate with ADSL v1.0 in the bottom right corner. If you have one of these, you don't need to use Microfilters as one is built-in to the socket. |
2. Where can I find the master socket?
If you have one, it'll be installed at the point where the telephone line enters your property. This can vary but it's usually one of the following places:
Your hallway near the front door
Around or underneath the front or back windows
Your attic
Your basement
If there's a junction box leading to an LJU socket (see the above pictures) where the line enters your property, then you probably don't have a master socket.
[Top]
3. What's a test socket and how can I find it?
It's a socket located between the wiring outside and the wiring
used to connect internal wiring and extensions to your telephone line.
You'll only have a test socket if you have an NTE5 master socket
installed in your property.
If you an NTE5 master socket, you can get to the test socket by
unscrewing and carefully removing the lower half of the NTE5 as
shown on the right.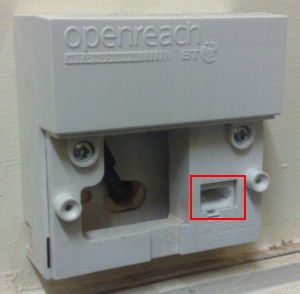 [Top]
4. Should I connect my router to the test socket?
Exposing the test socket disconnects your internal wiring, making it the only active telephone point in your property.
The only time we'd recommend this would be to help diagnose a broadband fault. Otherwise, you shouldn't need to.
This page last updated 18th November 2011