Broadband
How to get the best broadband speed
Summary: Handy tips to help you get the best possible broadband experience
Follow these tips to make sure you're getting the best broadband speeds. If you're having problems, please see our troubleshooting guides or watch our Broadband speed checks video to find out what to do next.
1. Know how fast your broadband can go
It's important to know how fast your line can go. There's no point messing with your settings and equipment if you're already getting the best speed possible on your line. Similarly, there's nothing we can do if you're getting the maximum speed available on your line.
Your broadband will always try to connect at the highest possible speed available on your telephone line. What this is depends on a number of factors, including the quality of your line and distance from the telephone exchange (read more about this).
When you sign up, move house or switch broadband products we'll give you an estimate of the speed you should be getting (you can see the estimate at High-speed Broadband in My Account). Unless there's a problem your speed should be close our estimate at most times.
Our Unlimited Fibre product sold from 10th June 2014 has a maximum download speed of 40Mb, though you may see results through the speed checker showing your line is capable of higher speeds than this. If so, you may want to upgrade to Unlimited Fibre Extra.
[Top]
2. Leave your router switched on
Leaving your router on will make sure you get the best speed and performance from your service.
Don't switch it off at night! Regularly switching off your router can make it look like your service is disconnecting. If this happens, your broadband speed will be reduced because the exchange thinks your line is unstable and can't cope with higher speeds. Speed reductions are never permanent, but it can take up to 3 days before your speeds return to normal.
[Top]
3. Using wireless? Check your signal and security
An un-secured network or poor signal reception can cause problems with your broadband speed.
Since 2008, our wireless routers use WPA wireless security (which you can upgrade to WPA2 if your computers support it), so your network is secured if you're using one. Even so it's worth reading through our Wi-Fi Security Tips guide to make sure you've covered all the bases.
If your computer often reports a low or poor signal, find out how to How to improve your wireless signal.
[Top]
4. Be aware of traffic management
Plusnet Broadband is provided over a shared network. This means we have to manage traffic to make sure our customers receive a quality and sustainable broadband service. All traffic is prioritised according to type, broadband account and the time of day. Read our Traffic management guide to find out how and why this is implemented.
Traffic Management shouldn't cause any serious problems. If you're noticing lower speeds on a particular application, our Broadband speeds page will give you an idea of what you can expect at different times of the day.
[Top]
5. Consider switching off interleaving
Interleaving improves the quality of your broadband signal and helps stability on lines with problems. Unfortunately it can add a small delay (or added latency) to the service and this may affect the broadband experience for gamers.
Switching off interleaving can reduce the stability of broadband (making it more prone to fluctuations and drops), so in most cases we don't recommend doing this.
To switch interleaving off, use the Help Assistant to raise a Question. Follow the path - My Broadband Connection > Interleaving.
Please note: the following tips do not apply to Plusnet Fibre customers.
6. Fit your microfilters properly
Microfilters are essential to get your broadband working properly. They stop the broadband signal and the voice service on your telephone line from interfering with each other. Not using microfilters, or not plugging them in properly may mean your broadband might be slow, might not work, or you might hear high-pitched noises when you make phone calls.
Make sure you plug a microfilter between your master telephone socket and your broadband router. Then make sure you plug a microfilter into any other telephone sockets in you house which also have telephones or any other kind of device on the phone line.
This includes things like:
Satellite set-top boxes
Burglar alarm systems
Fax machines
Read Microfilters - how and why to find out more.
[Top]
7. Avoid using telephone extension cables
A poor quality telephone extension cable can increase interference on your line which will affect your broadband speed.
If you can, you'll be much better off connecting wirelessly or if you have to use cables, get a longer Ethernet cable to bridge the gap between your router and computer.
If you have to use a telephone extension cable, use a new, high quality cable and with the shortest possible length. Tangled and coiled cables can cause interference.
[Top]
8. Use the master socket if you can
The master socket is the point in your home where the broadband signal is strongest, you'll get
the best broadband performance and speed if you can connect your router it directly. It's usually
installed close to where the telephone line enters your property (sometimes this will be in the
attic or a basement).
Most look like the one shown on the right: a split faceplate socket with two screws holding the
bottom section in. Some older sockets are not split and the screws and socket will be in the
middle.
If you don't have a master socket (not all properties do), don't worry. Try and connect your
router to the socket that's closest to where the telephone line enters your property.
Read our Master socket guide to find out more.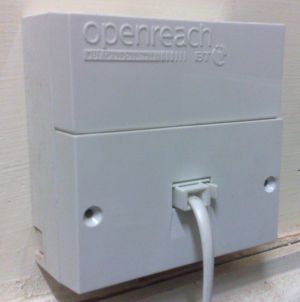 [Top]
This page last updated 10th June 2014