Email
How to use basic webmail
Summary: Information about webmail.
Webmail lets you read, write and send email when you are not at your home PC. This tutorial covers the basics of using Webmail.
1. Logging in
You'll see the Webmail login screen:

In the Name & Password fields enter the details for the email address you want to check.

If you're checking your main Plusnet email address, enter your account username and password (the ones you use to log into this site).
If you're checking an additional mailbox, enter your mailbox username and the password you chose for the new mailbox. If you're not sure what these are, check the email you were sent after creating the new mailbox in Manage My Mail.

Choose your provider from the Log in to box and click Login.
[Top]
2. How to check and manage your mail
After logging in, you'll see a screen similar to the one shown below. The left column (the folder menu) shows all the folders available for the email address you're currently logged into. The number of unread messages for each folder will be shown in brackets after its name.
The rest of the screen shows the contents of the currently selected folder, this will show the Inbox when you first log in.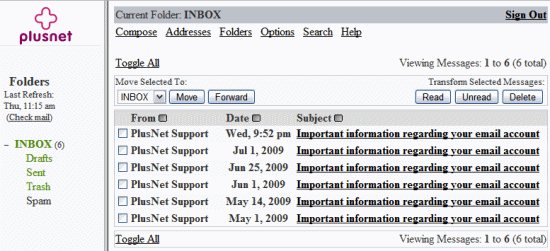 Reading and replying
Click on an email's Subject to read it
While reading each email you'll see links to Reply, Reply All and Forward - clicking these will take you to the Compose screen
When viewing emails with images for security reasons these will be blocked and replaced with the message: This image has been removed for security reasons. If you know the sender and want to see the images, click View Images.
Viewing different folders
Click on the folder name you want to look at in the left column
Moving mail between folders
Use the tick box on the left (click Toggle All to every email currently shown on screen) to select which emails you want to move
Choose the folder you want to move mails to from the Move Selected To: list
Click Move
Marking, Deleting & Forwarding
Use the tick box on the left (click Toggle All to every email currently shown on screen) to select the emails you want to mark delete or forward
Click Forward to forward all selected emails to another address
Click Read or Unread to mark all selected emails as read or unread
Click Delete to move all selected emails to the Trash folder
[Top]
3. Writing & sending mail
To create a new message click Compose, which you'll find at the top of each page in Webmail. This will take you to the compose screen. If you're replying to, or forwarding an existing message then some of the fields will already be filled in, otherwise it will look like this: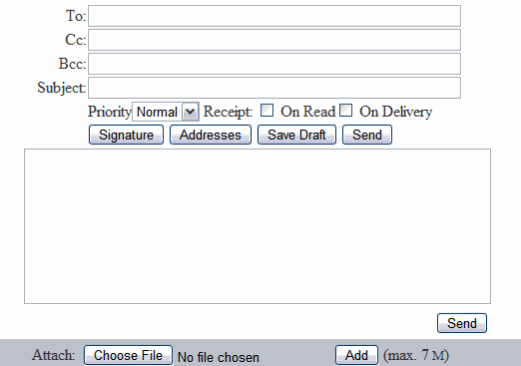 Fill out the fields and type your message into the large box. If you need help, the table below explains what the fields and button mean.
If you need to attach files, click Choose File to find the file you want to attach from your computer and click Add to attach the file you've selected
When you're finished, click Send. If you'd prefer to save your message and send it later click Save Draft - it will be stored in the Drafts folder.
| Field or Option | What it does |
| --- | --- |
| To | Enter the email address of the person you're sending to. |
| Cc (Carbon Copy) | If you're sending to more than one address, enter the extra addresses here, separate each one with a comma. Each recipient will be able to see who the message was sent to. |
| Bcc (Blind Carbon Copy) | This is the same as using CC, but addresses entered here will not be seen by any recipient. Separate multiple entries with a comma. |
| Subject | This is the title of your email |
| Priority | Allows you to set how important the message is |
| Receipt | Ask for a return receipt that confirms that the email has been read (On Read) or delivered (On Delivery). |
| Signature | Click this to add your signature to the bottom of the email |
| Addresses | Use this to quickly add addresses stored in your address book |
4. How to edit your details
To edit your account details, click Options (which is shown at the top of every Webmail page) and from there choose Personal Information (as shown below).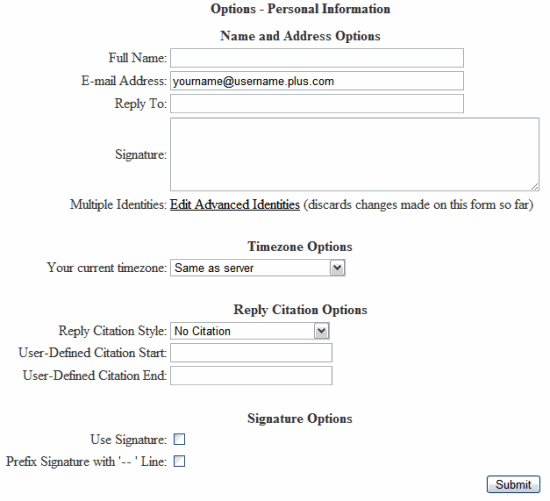 If you're not sure about any of the options, here's what they all mean.
Field or Option
What it does
Full name
Enter your full name or the name you'd like people to see when you send them email from this address.
Email Address
This will show the Plusnet address for the mailbox you're logged into. Change this if you want to use a hosted domain instead.
Reply To
In most cases you can leave this blank. If you want replies to your emails to go to a different address, fill this in.
Signature
If your emails to include a signature, enter it here.
Multiple Identities
If you want to use multiple email addresses, signatures or names, you can enter them here, or select an already created identity.
Your current timezone
Emails are time stamped according to the timezone set here. Only change this if you are sending messages from outside the U.K.
Reply Citation Options
This option changes the way replies are formatted. Reply citations allow you to easily separate reply text from your original message.
Signature Options

Ticking Use Signature will add your signature to every email you send using Webmail.

Ticking Prefix Signature with '--' Line will add '--' before your signature. This allows email programs to detect the signature and format or remove it as desired by the recipient.
5. Using the address book
To get to your address book, click Addresses (which is shown at the top of every Webmail page).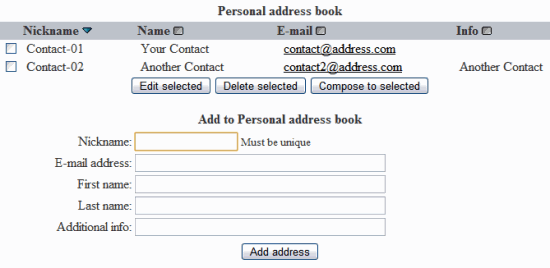 To add a new address, fill in the fields under Add to Personal address book and click Add address.
Contacts will be shown at the top of the page in the Personal address book section, as shown above. You can change or delete contacts by ticking the box next to them and clicking the appropriate button.
[Top]
6. Managing Folders
To manage your folders, click Folders (which is shown at the top of every Webmail page).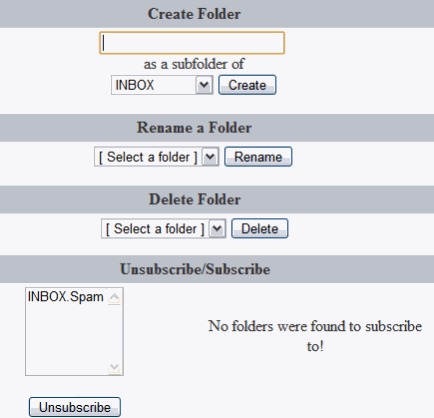 Create a new folder
Type in a folder name in the Create Folder line.
Use the drop-down box to select where to create the folder. You can place it in your INBOX, or you can create a folder within another folder.
Click the Create button.
Rename & Delete folders
You can rename and delete folders using the drop-down windows.
Folder Subscriptions
You can use the Unsubscribe/Subscribe feature to provide access to a folder. When a folder is subscribed, you will be able to move email into it. When a folder is unsubscribed, it will not have the option of moving emails from your Inbox into it.
[Top]
This page last updated 20th April 2012