Summary: A guide to dealing with spam emails.
Add Plusnet Protect powered by McAfee security to your service today.
For just £2 a month (free on Plusnet Extra) you'll be defended from the latest online threats like viruses, hackers and spyware. Find out more
Introduction
This article will take you through 6 steps to help you reduce the amount of spam email you are receiving. It will make life harder for spammers who are always looking for new email addresses to send spam to.
Our examples will be using the account of a fictional customer called 'Marysia'. When setting up your spam protection, just replace any reference to 'marysia..plus.com' with your own account details. This will look like username.plus.com.
This article is split into 6 sections. They are intended to be read in order, but if you can't go through them all in a single sitting, here are links to the later sections:
Section 1 (this section) will show you how to see what email addresses you are using with your account and how to turn on Spam Protection. Sections 2-6 will show you more steps to take to protect yourself from spammers and how to change things if you're already receiving spam.
---
An Introduction to Plusnet Email
If you have a Plusnet email address it'll look like this: something@username.plus.com (or username@username.plus.com if you've been with us for long enough). If you haven't created an address yet, you can do so here.
The system you'll use to control how your email works is called Manage My Mail. Read our Manage My Mail Overview article if you'd like to learn more about how it works.
If you host domain name(s) on your account, this information will automatically apply to them too.
---
Step One - Logging in to Manage My Mail
Go to http://email.plus.net/ to see this. (You'll need to log in if you haven't done so already.) You can also access Manage My Mail by clicking Email Settings in the left-hand menu on the Member Centre and clicking Manage My Mail.
For our example account, the main screen looks like:
---
Step Two - Turning on Spam Protection
All Plusnet accounts come with Anti-Spam protection. The first step to dealing with spam email is to make sure that your Spam Protection is turned on and set up how you want it.
First, click on the 'Spam' tab:
Next, choose which domains you want the settings to apply for. You can choose from a dropdown list of domains (and view settings for that particular domain by clicking the View button).
If you want your settings to apply for all domains on your account, or you want to block all mail to the domain displayed in the dropdown list, tick the appropriate button:
Next you can choose whether you want Spam Filtering on or not, we recommended leaving this on. Changing this setting will take up to 48 hours.
You can also choose if you want us to delete 'obvious' spam. To find out more about this, take a look at our Spam Protection Advanced Guide.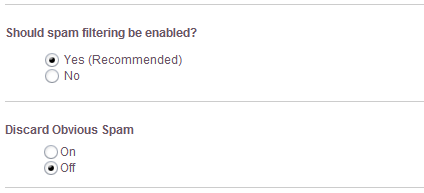 If you have turned spam filtering on, you now need to choose how you wish the spam to be flagged.
The first decision is whether you want '[-SPAM-]' added to the subject lines of mail identified as spam.

Next choose what we do with the messages. Options are as follows:

Move to the Spam Folder (Recommended)
Choosing this option will automatically create a dedicated folder called 'Spam' in your Webmail for each of your mailboxes. Any emails found to be spam will be delivered to your new 'Spam' folder instead of your Inbox.
Find out how to use this option in our article on Setting Up Your Webmail Spam Folder or by watching our video tutorial.
Move to Inbox
Any emails which are identified as spam are still delivered to you, however the subject line of the email will include the text [-SPAM-]. This is so you can quickly see what has been marked as spam.
Use this option if you want to see how the spam filter works - it's a good way to confirm the spam filter is working for you. Some people worry that their email isn't working after turning on one of the other options. This is because, for most, spam can outweigh their legitimate email by rates of 10:1.
If you elect to have your emails marked as spam, you can configure your mail software to automatically move these messages into a spam folder, see one of the following guides for details on how to achieve this:
Move to an existing Mailbox
You can choose to have all tagged spam emails moved to a single mailbox. This is useful if you have many accounts and only want to have to check through a single mailbox for any incorrectly tagged messages.
Note: This option can be set on a per-domain basis, if you have multiple domains, you could set up a separate mailbox for each domain to be used with this option.
Finally, you need to decide how aggressive you want the spam filtering to be. You can choose a value between 1 and 5, with 5 being the most aggressive. Note that although a more aggressive setting can stop more spam coming through, this does increase the chance that a legitimate email will be marked as spam:

You can now choose to add email addresses or domains to either an approved or blocked senders list.
These will allow you to add email addresses which should be considered either always trustworthy or always to be rejected.
You may find that you are receiving unwanted mail, though it may not technically be spam. If this is the case, you could add the email address of the sender to your blacklist to stop those emails being received.
Similarly, you may receive emails from certain sources that our spam filters determine to be spam, when they are not. You can add these senders to your approved list to ensure any messages sent from them are received: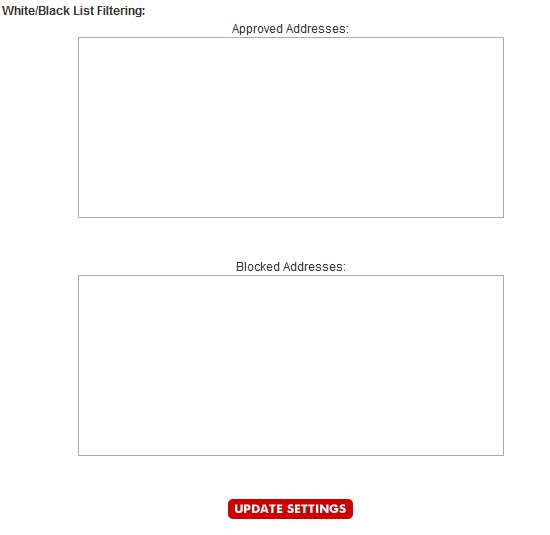 If you want your changes to apply all the domains available on your account, make sure you tick the box labelled Apply these settings to all my domains
Once you've made the changes you want, click the red UPDATE SETTINGS button to apply them.
---
Step Three - Finding out what email addresses are set up on your account
Looking at the image in section 1, we can see that mail is accepted for the following email addresses:
marysia@marysia..plus.com
anna@marysia..plus.com
contact@marysia..plus.com
crochet@marysia..plus.com
mary@marysia..plus.com
marysiajones@marysia..plus.com
post@marysia..plus.com
There is also an additional note at the top of the page stating that any emails to addresses not on this list will, by default, be sent to marysia@marysia.plus.com. This is done using our 'Catch All' facility. This is very useful as it means you don't need to set up each email address that you use explicitly. However, it does make life easier for spammers.
Basically it means that any email addressed to anynameatall@marysia.plus.com will be delivered successfully.
---