Plusnet service
Cancellation policy
Summary: Information about our policy on cancellations and related issues.
How we handle cancellations, downgrades to non-subscription accounts and migrations to another ISP.
1. General Policies
When a customer wishes to cancel for any reason, we will treat the request promptly, and with a view to making the cancellation or migration process as smooth as possible.
In all cases, when an account cancellation request is raised, we will investigate the reasons and identify if any additional support can be offered, in order to resolve the cause of the cancellation request.
Before we process a cancellation request, we will check for domain names, home phone service and other account features which will be lost following the cancellation. We will make customers aware of the implications of cancelling their account and provide advice on moving these services if requested.
All customers, when cancelling, will be asked to complete a voluntary feedback survey. The results of which will be analysed regularly to highlight areas in which we need to improve.
When an account is closed, access to all account features provided by Plusnet will be removed. This includes email, hosted web-space and Member Centre access (including discussion forums and access to the Help Assistant Ticketing system).
It is possible, when requesting an account cancellation, to request a downgrade to a mail only package for £20 a year instead of full account closure. This will allow continued access to email and some member centre features. This option must be requested at the time of cancellation.
For the purposes of a subscription contract, we regard a request to downgrade from a subscription account to any non-subscription account in the same way as a request to close the account completely.
It is not currently possible to 'park' a broadband account and re-activate it later without paying a new connection charge. This is due to the fact that we are billed by our suppliers for a broadband line, even if it is not in use.
[Top]
2. Requesting Account Cancellation
Process Diagram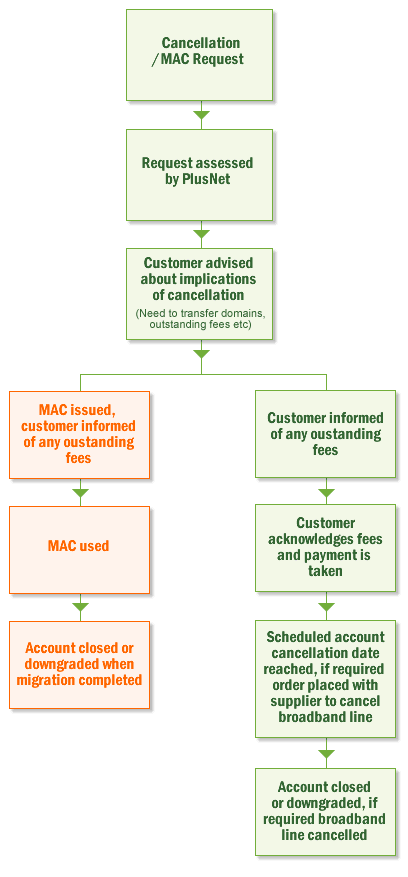 Cancellation requests can only be made by the account holder, or an authorised representative of the account holder.
A cancellation request can be made in one of two ways:

By calling us: The quickest and easiest way to request a cancellation is by calling our Customer Options Team on 0800 013 2632 or 0330 123 9197. For opening hours, please check our Contact us page. Any notice period that applies to the cancellation request will start as soon as a call is made to our Customer Options Team.
By post to: Plusnet, The Balance, 2 Pinfold St. Sheffield, S1 2GU. It is recommended that for customers' own peace of mind, any letter containing a cancellation request is sent by recorded delivery. We cannot accept responsibility for lost letters not sent in this way. The letter must state the account username, and if appropriate any final payments due should be included.
Note: we can't reply to cancellation requests made by Ticket. Please contact our Customer Options team on the telephone number above who will be able to deal with your query.
[Top]
3. Broadband Specific Cancellation Policies
It is important that customers understand the difference between 'cancelling' (ceasing) their Broadband line and 'migrating' to a new provider. This avoids confusion and will prevent the customer having their broadband ceased unnecessarily (in which case, any new ISP would have to re-activate the line, and broadband downtime would be unavoidable).
Moving to a new provider
To move to a new broadband provider a MAC Key (Migration Authorisation Code) is required. We generate this on behalf of the customer, using a supplier-provided system.
We will provide a MAC Key within five working days following a valid request being made. In the event of any difficulties our suppliers have providing a code, this may take longer, and in this case we will provide updates to this effect.
MAC Keys are valid for 30 days following their issue, and can be used at any time during this period simply by providing the MAC Key to the new supplier.

It is possible for a customer to use a MAC Key as soon as it is received, in which case the migration can take place in as little as 5 working days (payment for the notice period will be required).
If the MAC Key is not used and expires, the customer must request another via the same process if they still wish to change broadband provider.

To ensure no loss of service for the customer, when we issue a MAC Key, we do not schedule the account for cancellation. Any due subscription payments will continue to be taken. The account will only be closed (or downgraded) when we receive confirmation from either the customer (or from our network supplier) that the service has moved to the new provider.
When we receive confirmation that the migration has completed, our systems currently will automatically downgrade the account. See General Policies, points 5 and 6 for details.
If the migration completes after the 30 day period has expired, a complete month's subscription payment will be automatically taken. In this situation, the customer can request a refund for any unused subscription credit. The refund will be made within 10 working days and will be provided via the same method that the payment was taken.
Note: It is important that any Direct Debit mandates are not cancelled until the refund has cleared.
Our suppliers do normally inform us when a customer uses a MAC Key, but this doesn't always happen. If a customer does not receive confirmation of the account closure, once their migration has completed, they are advised to call our Customer Options Team on 0800 013 2632 or 0330 123 9197 to inform us that the migration has completed. For opening hours, please check our Contact us page.
Ceasing a Broadband Line
Where customers wish to fully close their broadband line, instead of migrating, they simply need to request a 'Cease' order when calling the Customer Options Team. The policies stated in the notice period and final payment sections of this document will apply.

Note: We can't reply to cancellation requests via Ticket. Please contact our Customer Options team on the telephone number above who will be able to deal with your query.
[Top]
4. Notice Periods and Scheduling of Cancellations
We require notice in order to close any account. The notice period is 14 days for Residential accounts and 30 days for Business accounts. When a cancellation (as opposed to a MAC Key) is requested, we will schedule this to take place at the end of the notice period. Due to limitations of our supplier's systems, if this date falls on a weekend, a broadband line cancellation will be scheduled for the next working day.
The notice period starts from the time we receive the cancellation request. If the cancellation request is withdrawn for any reason during the notice period, a new request needs to be made and a new notice period will commence.
It is possible to specify a cancellation date after the notice period. In this case, a one-off payment will be taken at the time the account is scheduled for cancellation. This payment will include all subscription charges up until the end of the requested period and no further subscription charges will be made.
If requested, we can close an account sooner than the notice period. In this event any payments due up until the end of the notice period will be required as a final one-off payment before the account closure can be scheduled.
Because we need to order the broadband line cancellations with our own suppliers we always require at least 5 working days notice.
[Top]
5. Contracts
All customers under contract will, when their initial period is up, be automatically moved to a rolling one month contract.
Should the customer wish to cancel at the end of the initial term, they will need to give notice (as per 4.1) prior to the annual contract end date.
Should the customer wish to cancel before the initial term has expired, payment for the remaining months of the contract will be requested as a final payment.
[Top]
6. Final Payments
When requesting a cancellation (as opposed to a MAC Key), at the time this is scheduled, a final payment will be required to cover the notice period. Customers will have access to their account up until this final day and will not be charged again during the notice period.
The closure of any account is subject to minimum contract periods and the payment of any outstanding and/or deferred amounts. Customers can normally see if they are required to settle any deferred costs by checking the Account Summary page.
One-off final payments must be made by Credit or Debit card.
A posted cheque can be accepted in exceptional circumstances. When sending a cheque, the username must be written clearly on the reverse, and this should be sent by recorded delivery to Plusnet, The Balance, 2 Pinfold St. Sheffield, S1 2GU.
At the point where a MAC Key is issued, the customer is informed of any fees outstanding and notified of the need to settle these.
If not collected at the time of the cancellation request, all outstanding payments remain due. We will pursue unpaid debts via an external debt-collection agency, and will write to the registered account address before doing this. If we have to pass on the debt an additional administration fee will also be applied to the outstanding sum.
[Top]
7. Home Phone Specific Cancellation Policies
To cancel a home phone product from Plusnet, customers need to place a landline order with their new provider. If customers wish to cancel because they are moving to a cable provider, they can request a cease of their phone service by calling our Customer Options Team on 0800 013 2632 or 0330 123 9197. For opening hours, please check our Contact us page. Customers should note that a cease of phone service will also cease any broadband service on the line.
We automatically process the account cancellation when we receive confirmation of the transfer to the new provider, or upon confirmation of the cease being placed on the service.
Customers will be billed any remaining call charges and outstanding line rental 7 days after the transfer to the new provider, or the cease, has been completed.
Should a customer who is under contract wish to cancel before the contract term has expired, line rental payment for the remaining months of the contract will be requested as a final payment.
[Top]
8. Domain Names
When we receive an account cancellation request, customers should provide instructions about what they would like to happen to any domain names on their account.
If requested, we can continue to renew and host a domain name on a non-subscription account, for a charge of £25 + VAT per year.
If no instructions are received, the domain name will be parked and will cease to function. It will not be renewed by us when the renewal is due.
For a customer who has the £1.00 domain name option, if it is less than twelve months since the domain name was first registered or first renewed by us, a payment of £52.88 will be required.
This is the full cost of registering a .uk domain name with us currently.
[Top]
9. Metronet Accounts
Metronet accounts are paid in arrears, unlike Plusnet accounts which are paid in advance. This means the final payment will include the current billing period and the time up until the 10 day notice period is completed.
[Top]
10. Closing of Non-subscription Accounts
As a rule, customers do not need to request the cancellation of non-subscription accounts. Where there is an exceptional reason for us to close a non-subscription account, we will do this on request of the account holder.
Any free account which is not used for a period of 90 days will be removed from our systems. See Common Email Questions for more details.
We reserve the right to adjust our policy in relation to non-subscription accounts at any time. We do not guarantee customers who are not paying a subscription will be able to continue to access any of the services associated with their account indefinitely.
[Top]
11. Cancellations during Trial Periods
When a customer is cancelling within a trial period, they should inform us of this when requesting cancellation.
[Top]
12. PSTN Ceases
A 'PSTN Cease' means BT have cancelled the Voice part of a telephone line. When this happens, BT also cancel the Broadband part of a line automatically. There are numerous reasons why BT raise PSTN ceases, such as a house move, change of BT account holder, account type or other account information and/or failure to pay a BT bill.
On receipt of notification of a PSTN cease, Plusnet will do the following.

Check to see if a house move is in progress with Plusnet, if so we do not need to take further action.
If no house move request has been made, we will raise a contact to the customer and email them, notifying them that a PSTN cease has been requested or placed, including the date it is due to complete.
If a house move is being performed without our knowledge, the customer will need to follow our house move process in order to restore the broadband service at the new location.
If the customer wishes to cancel their account with us, this still needs to be requested in the normal way.
[Top]
13. Cancellation of service under the Consumer Contracts (Information, Cancellation and Additional Charges) Regulations 2013 ("the Regulations")
Any non-business service from Plusnet (apart from BT Sport, Plusnet Protect and channel packs) ordered on or after 10th June 2014 can be cancelled 14 days from the day after you sign-up for the service. If you cancel during this time you will have to pay for the services you have used, any applicable installation, connection or activation charges (including any charges that were discounted or advertised as free at the time we accepted your order for the services) and return any equipment provided. If the service you sign-up for is a re-contract, upgrade or add-on, we may revert you to your previous contract upon cancellation or the closest matching service.
You can cancel your order for the equipment we have sent you up to 14 days after you receive it from us. If you cancel within 14 days, you must return the equipment to us.
If you wish to cancel within the period set out above, you can use the cancellation form, located here and post it to us or by calling us on 0800 013 2632 or 0330 123 9197. Please ensure that when you cancel, you tell us if you are cancelling to just stop the service or in order to transfer to another provider, so that we can deal with your cancellation appropriately.
[Top]
14. Policy Changes
Policy changes were made on:
| Date | Change Summary |
| --- | --- |
| 21st March 2007 | Policy first published |
| 12th September 2008 | Policy updated |
| 9th December 2008 | Policy updated |
| 17th February 2009 | Policy updated |
| 19th March 2009 | Policy updated |
| 11th May 2009 | Policy updated |
| 12th August 2009 | Policy updated |
| 1st January 2010 | Policy updated |
| 14th January 2010 | Policy updated |
| 6th April 2010 | Policy updated |
| 17th September 2010 | Policy updated |
| 28th March 2011 | Policy updated |
| 1st May 2012 | Address updated |
| 3rd June 2013 | Customer Options Team opening hours updated |
| 1st October 2013 | Cancellation notice period updated |
| 10th June 2014 | Policy updated (section 13) |
| 8th April 2015 | Policy updated (section 13) |