Plusnet - We'll do you proud

Menu
Contact Us
Call us on
0800 432 0200
Need help? Give us a call
0800 432 0200 - (from landlines)
Free to call from landlines, chargeable from mobiles. Rates vary depending on your network and call plan.
0345 140 0200 - (from mobiles)
This is charged at the same rate as landline numbers, when calling from mobiles.
Sales: 8am-9pm Monday-Friday, 9am-9pm weekends
Support: All day every day
or contact us online
Is my router compatible?
When you sign up to Plusnet broadband you can choose a Technicolor 582n wireless router if you want to (P&P £5.99).
We strongly advise taking our router, unless you're an experienced Internet user.
How to check if your router is compatible
Does your router's description state 'ADSL/ADSL2/ADSL2+'? (You may want to Google the model name for details)
Did you buy your router from a high street/online retailer?
If you've answered 'YES' to both of these, it's likely that your router will be compatible with our service. If the answer is 'NO', we suggest that you take the router we supply.
Should you find that your router isn't compatible once your broadband service is active, don't worry. Simply call us on 0800 432 0200 and we'll send you a new router (P&P £5.99).
Switching to Plusnet
We've made it a doddle to change to us from your provider.

Find out how
Packages guide
All the info you need to know about our broadband and phone packages.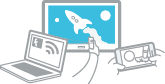 View packages guide