Setup Auto Login for this website
This article is not regularly maintained
This archived article may contain information that's not up-to-date. It's here so you can still refer to this older info, but it's not regularly maintained and our Customer Support Advisors won't be able to help with queries about it.
If you've got a question about this article, why not ask the Plusnet Community? Or, for the latest Help & Support articles, head over to plus.net/help
Activating the Auto Login feature means you won't have to login each time you visit the Member Centre. It allows instant access to your Webmail, Manage Account and all other personalised areas.
1. About Auto Login
Whenever you visit the Member Centre your username and password are used to uniquely identify you. An Internet 'cookie', specially encrypted for use by the Member Centre, remembers these and automatically provides them to you. (You need to have cookies enabled on your computer).
Activate Auto Login now.
Things to remember about Auto Login
You can only have Auto Login enabled on one computer at a time.
If you are sharing your computer with other users, make sure you turn off Auto Login before you exit. If you don't, the system will automatically allow access to your personal details and email.
The Member Centre automatically logs you out after 15 minutes of inactivity. This protects your details from prying eyes if you are ever away from your computer.
Turning Auto Login off will require you to log in at every visit.
2. Activating Auto Login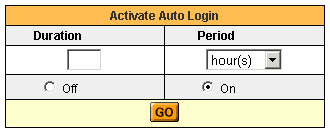 1. Click the On checkbox (Auto Login is switched Off by default). Under 'Duration', choose how long you want the Member Centre to keep you logged in for. Use the drop-down 'Period' list to choose how you want the login period to be measured (e.g. hours, days, weeks, months or years).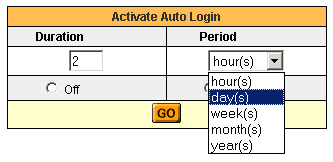 2. Click Go to confirm your choice. Don't forget you can turn off Auto Login at any time by selecting Off and clicking Go. You will also turn off Auto Login if you select 'Log Out' from the Member Centre menu. This clears your user details from the cookie, so you'll need to login next time you visit the Member Centre.
3. Security Tips
Only use Auto Login on your PC and not public access computers (e.g. at libraries or Internet cafes). Once Auto Login is active your username and password are not needed to access private account details and settings.
Always keep your password confidential. Changing your password regularly makes sure your personal details stay personal.
If you have any problems try clearing your browser cache and make sure cookies are enabled on your PC.
This is an archived article and may contain information that's not up-to-date - more info
Was this article helpful?
Thanks!
Thanks. Your feedback is really appreciated and helps us to improve our help and support.