How to test your broadband speed
If you're having trouble with your broadband speed, or just want to test how it's doing, our broadband performance tester makes it simple. It'll show you the speed of your line and give us all the data we'll need if you ever get in touch about a fault.
If you're new to Plusnet, wait 10 days for your connection to settle before following any instructions on this page. You can find more tips by taking a look at our How to get the best broadband speed article.
Broadband speed testing FAQs
Do I need to do anything before I run the speed test?
There are a couple of things you'll need to do to get the best results. You'll need to use a laptop or desktop to run the test, so if you're on an iPhone or iPad you should switch to a computer. If you haven't already got Flash installed you'll be asked to install it when you first run the test. Then:
close any other windows you've got open on your computer
turn off your firewall and antivirus software if you can. But don't forget to turn them back on again when you're done
shut down as many programmes as you can
switch off anything else that's connected to your router, like other computers, consoles or devices
connect to your router using an Ethernet (wired) connection and switch off the Wi-Fi on your computer. If the speed test results are okay when you're using the cable, it could be the Wi-Fi that's causing the issues.
How do I run the test?
Before getting in touch with us, it's worth taking a look at our broadband speed guide. The problem might be something you can fix yourself. If you do need to report a fault you'll need run a test first.
open up a web browser (like Internet Explorer, Safari or Firefox) and go to speedtest.btwholesale.com
it'll ask you to confirm you've gone through the steps we've told you about above. Choose Yes and then click Begin Test.
the test will start. When it's all done, you'll be shown a message telling you your download and upload speeds.
click Further Diagnostics.
go to ADSL and Fibre to the Cabinet Broadband and type the telephone number you've got linked to your broadband.
scroll to the bottom of the page and click Run Diagnostic Test. You might be asked a few more questions, so just follow the instructions on the screen. We'll need you to do the test three times in one day. You should do one of these between midnight and 4pm. Make a note of the results each time.
If the results show you're not getting the speed you should be, let us know by going to the broadband troubleshooter.
What do my results mean?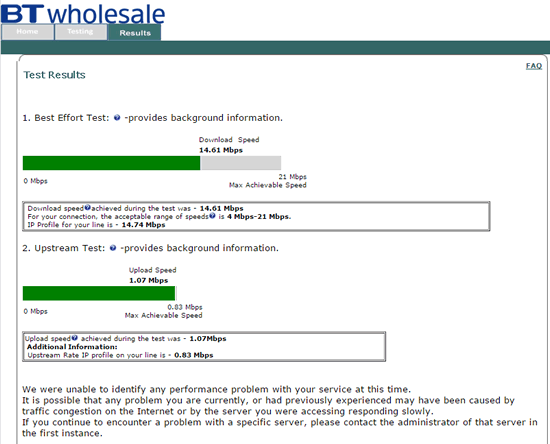 Your results will look something like this.
The Best Effort Test shows your 'throughput speed' – this is 14.61Mbps as shown in the picture.
You'll also get a speed range. These numbers are just the acceptable speeds for the type of line you have.
The 'IP Profile' shows the maximum theoretical throughput speed your line is capable of.
Why is the test saying my line is capable of higher speeds than I'm getting?
The test results show the acceptable speed range for your broadband line. It's measured in Megabits per second (Mbps). If your download speed's within this range, that means there's no faults on your line and your broadband service is working fine. To make sure your speed's as good as it can be, take a look at our broadband speed guide.
If your line's capable of faster speeds than you're getting, you might want to check whether you've got the best type of broadband for your needs. Our Unlimited Fibre has a maximum download speed of 40Mbps (55Mpbs if you're on Plusnet Unlimited Fibre, which is no longer sold). If you want faster speeds and your line's capable, you might want to upgrade to Unlimited Fibre Extra.
If the test results are okay when you connect with a cable, but not when you're using Wi-Fi, there could be an issue with the wireless. For tips on how to improve things, check out our article on getting the best Wi-Fi signal.
How do I report a problem?
If you've run the test above and followed the tips in the speed guide and you're still having problems with your broadband speed, let us know by going to the broadband troubleshooter.
Was this article helpful?
Thanks!
Thanks. Your feedback is really appreciated and helps us to improve our help and support.