Plusnet and the WEEE Legislation
Information about WEEE
Waste Electrical and Electronic Equipment (WEEE for short)
The Waste Electrical and Electronic Equipment Regulations have been put in place to ensure that Waste Electrical and Electronic Equipment (WEEE) is recycled using the best available treatment, recovery and recycling techniques to ensure human health and high environmental protection. For example, the regulations seek to minimise the disposal of WEEE as unsorted general domestic waste.
This is because where WEEE finishes up in a landfill it can cause soil and water contamination. This can have a harmful effect on the natural habitat, wildlife and also human health.
When you have finished with a WEEE product, please do not put in your domestic waste bin, as it will not be recycled.
The crossed out wheeled bin symbol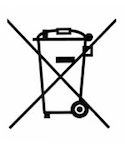 If the symbol shown here is found on any of your products, it means that the product is classed as WEEE and is covered by the WEEE Regulations.
Hand the old equivalent product back to the retailer
When you purchase a replacement product, hand the old equivalent product back to the retailer. They should accept it as a requirement under the WEEE Regulations (2006 No. 3289) unless they are a member of the Distributor Take Back Scheme (DTS).
We will accept, without charge, and dispose of in an environmentally friendly manner, any item similar to an item purchased from us that falls under the WEEE regulations. If you would like us to dispose of your old item, please send it to:
WEEE Take Back Scheme
Plusnet
Darlington Road
Northallerton
DL6 2PJ

Please note: Plusnet are not responsible for the costs of returning items. If you do not wish to return it to us, please take it to your nearest WEEE recycling centre. DO NOT place it in your normal waste bin.
Was this article helpful?
Thanks!
Thanks. Your feedback is really appreciated and helps us to improve our help and support.