Thomson 585 - how to check or change wireless settings
This article is not regularly maintained
This archived article may contain information that's not up-to-date. It's here so you can still refer to this older info, but it's not regularly maintained and our Customer Support Advisors won't be able to help with queries about it.
If you've got a question about this article, why not ask the Plusnet Community? Or, for the latest Help & Support articles, head over to plus.net/help
Connect and log in to your router
Open your web browser (This could be Internet Explorer, Safari or Firefox, depending on your system).

Ignore the web page (or error message) that appears and enter the IP address of your router. This should be 192.168.1.254 unless you've changed it.

If you're asked to log in, enter the Router Username and Password (I don't know what these are).

I don't know what the Router Username and password are

You'll need to give a username and password before you can get to the settings for your router. You'll find them on the setup sticker included with your router.

Still not sure or can't find the setup sticker? Please see the table below:

| When did you receive your Thomson router? | Router Username | Router Password |
| --- | --- | --- |
| 27th Nov - 3rd Dec 2008 | Administrator | Serial Number |
| 3rd Dec 2008 - 23rd Nov 2009 | Administrator | No Password |
| 24th Nov 2009 onwards | admin | Serial Number |

All details are Case Sensitive (note the capital A when the username is Administrator)

The Serial Number is printed on the bottom of your router:

If there's a number in brackets, ignore it. In the above example, the router password would be CP0752SFB4J

Click Home Network on the left menu.

You'll see a basic diagram showing the devices currently connected to your network.

Click WLAN: PlusnetWireless (where PlusnetWireless is the name of your wireless network).

Now you'll see an overview of the settings currently being used.

To change the settings click Configure
To see more information click Details
What settings are available and what do they do?
Check the table below to find out what each of the settings is for.
You might need to reconnect to your network after changing some of these settings (particularly the Network Name, Encryption or Encryption password). See our Wireless connection guide if you need help with this.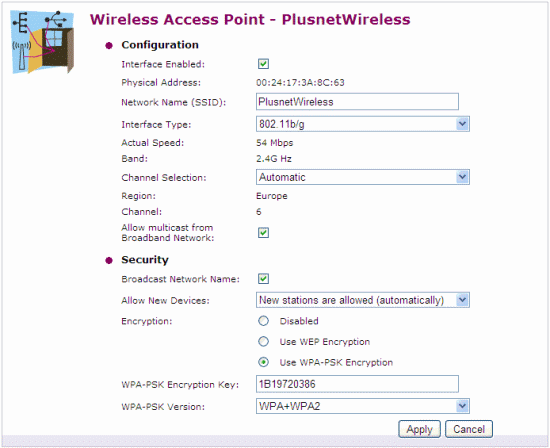 Setting
What does it do?
Interface Enabled (tick box)
Switch your wireless on or off.
Network Name (SSID)
The broadcast name of your wireless network, you'll see it when scanning for networks to connect to.
Interface Type
Control the wireless standard that your network broadcasts on:

• 802.11b
• 802.11b(legacy)/g
• 802.11b/g
• 802.11g

You shouldn't change this unless you're connecting with a computer or device that needs to use a particular standard.
Channel Selection
Choose the channel (frequency) that your wireless network transmits on. By default this will be set to Automatic.

• Automatic means the Thomson Gateway will choose the best channel each time you switch it on
• Manual allows you to choose a single channel to broadcast on (between 1-13)

If you're having problems, using a single channel can improve the stability of your wireless connection.

You'll need to experiment to find the channel that's best for you. We recommend trying channels 1, 6 or 12 first.
Allow multicast from Broadband Network
Lets you allow or block multicast broadcasts over your wireless network.
Broadcast Network Name (tick box)
By default, your Thomson Gateway will display the Network Name (or SSID) to any computer that scans for available networks. To stop this from happening and hide the SSID, untick this box.

Computers and other devices will still be able to connect to your network but you'll need to type the SSID in, rather than choosing from a list of available networks.
Allow New Devices
Control how new computers connect to your wireless network.
Encryption
Choose the method of encryption for your wireless network.

• Disabled
• Use WEP Encryption
• Use WPA-PSK Encryption

Disabling encryption means anyone can access your network. WEP is an outdated method of encryption which is easily cracked. We do not recommend choosing either of these options.

Leave this set to WPA-PSK unless you have a specific reason to change
WPA-PSK/WEP Encryption Key
This is the password you need to log on to your Wireless network.
WPA-PSK/WEP Version
Choose the level of encryption for your wireless network.

• WPA2
• WPA+WPA2
• WPA

WPA2 is the newest and most secure version of WPA, but not all systems support it.

WPA+WP2 is the standard option and will allow connections through either level of WPA.

Only change to WPA2 if all your computers or devices support it.
This is an archived article and may contain information that's not up-to-date - more info
Was this article helpful?
Thanks!
Thanks. Your feedback is really appreciated and helps us to improve our help and support.