Setting up your Webmail Spam folder
This article is not regularly maintained
This archived article may contain information that's not up-to-date. It's here so you can still refer to this older info, but it's not regularly maintained and our Customer Support Advisors won't be able to help with queries about it.
If you've got a question about this article, why not ask the Plusnet Community? Or, for the latest Help & Support articles, head over to plus.net/help
This article will show you how to activate your 'Spam' folder. This is used in combination with our spam filter so any messages our system tags as spam are delivered here instead of your main Inbox. See our Spam Protection Guide for details on how to choose this option.
1. Log into webmail. (See our Webmail Guide if you need more details).
2. Click 'Folders' in the top line of your Inbox: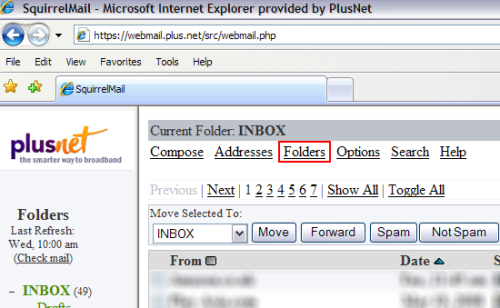 3. Towards the bottom of the page you'll see a list of folders you can subscribe to:
Highlight 'INBOX.Spam' as shown above.
Press the Subscribe button.

Please Note: If you have no 'Spam' folder to subscribe to then you can create one manually using the Create Folder field at the top of the page. Make sure the folder name is entered correctly - this should be 'Spam' (without quotes and note capital 'S')
4. Check your mail to update the folder list: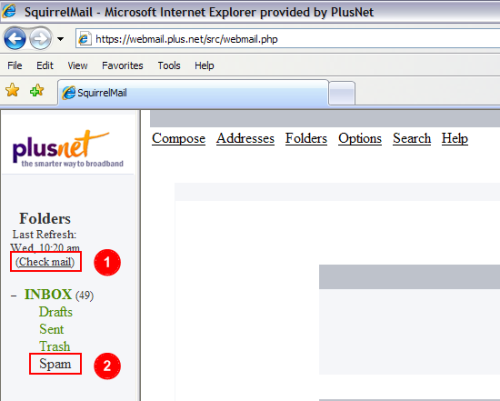 Click 'Check Mail'
The folder list will refresh and your 'Spam' folder should now be visible and ready for use.
Please Note: Any email stored in your spam folder will be automatically deleted after 21 days. You should check your 'Spam' folder periodically, as its possible that some legitimate mail may have been mistaken for spam.
This is an archived article and may contain information that's not up-to-date - more info
Was this article helpful?
Thanks!
Thanks. Your feedback is really appreciated and helps us to improve our help and support.