Is my router compatible?
When you sign up to Plusnet broadband you can choose to take a wireless router.
We strongly advise taking our router, unless you're an experienced Internet user.
How to check if your router is compatible
Does your router's description state 'ADSL/ADSL2/ADSL2+'? (You may want to search for the model name if you don't have details to hand)
Did you buy your router from a high street/online retailer?
If you've answered Yes to both questions, it's likely that your router will be compatible with our service. If the answer is No, we suggest that you take the router we supply.
Should you find that your router isn't compatible once your broadband service is up and running, call us on 0800 432 0200.
View all packages
Take a look at all our great-value, unlimited broadband and low-cost calls packages. Find a deal to suit you.
View packages
Packages guide
All the info you need to know about our broadband and phone packages.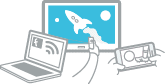 View packages guide