This article is not regularly maintained
This archived article may contain information that's not up-to-date. It's here so you can still refer to this older info, but it's not regularly maintained and our Customer Support Advisors won't be able to help with queries about it.
If you've got a question about this article, why not ask the Plusnet Community? Or, for the latest Help & Support articles, head over to plus.net/help
Check you've got everything you need
Check that you've got the following items:

There will also be a microfilter, a quick install guide and a sticker to record your wireless security details. The wireless aerial is packed separately and you will need to attach this.
The user guide on the CD will help you use the D-Link 2640B's advanced features.
Connect your microfilters
Plug a microfilter into each telephone socket you use in your property. If you had to unplug something you can plug it back into the Phone socket of the microfilter.
Phone sockets can be used by phones, alarm systems, fax machines and digital TV boxes, so make sure you don't miss anything out. Microfilters are essential for keeping your phone and Internet services from interfering with each other. Without microfilters you'll see poor speeds and connection drops.
You can use a microfilter before or after an extension lead, but not both
You can connect two devices to one microfilter if you use a phone adapter
If you need more microfilters, you can get them from most electrical stores and supermarkets
Don't plug a microfilter into the socket of another microfilter
Connect your router and plug it in
Plug the grey telephone cable into the microfilter socket marked DSL.
Plug the other end of the grey telephone cable into the DSL socket on the back of the router.
Connect the power adapter and switch the router on with the power button at the back.
The power light will initially be red and the DSL light will flash. Wait until they stop flashing and turn solid green before proceeding to the next section.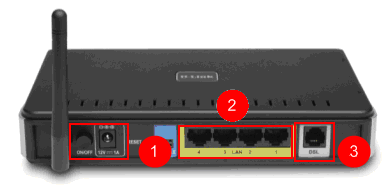 Power socket and switch
Ethernet ports (1-4)
DSL socket
Connect your laptop, phone or other device to your router
Wireless connection
To connect wirelessly, follow the instructions included with your computer, phone or other device to connect to your router via Wi-Fi. If you need help with this, please see our Wireless connection guides.
Wired connection
If you're using the Ethernet cable connect it to any of the four yellow Ethernet sockets on the back of your router.
Connect the other end of the Ethernet cable to the Ethernet socket on your computer or laptop.
Connect to the Internet
Once your router is installed, you'll need to configure it.
1. Open your web browser and type 192.168.1.1 into the address bar.
2. A login window will appear, enter the username and password and click 'Log in'. By default the details are:
Username: admin
Password: admin
3. Once you're logged in, click 'Setup Wizard'.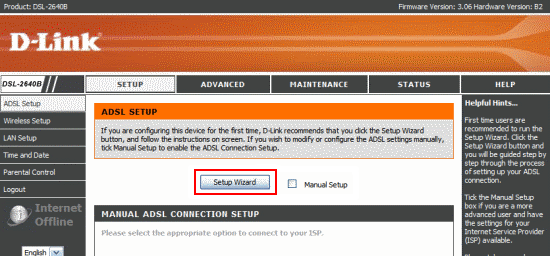 4. Click next and you'll be asked to change your router password. Enter the current password (default is admin) and the new password, confirm it and click next: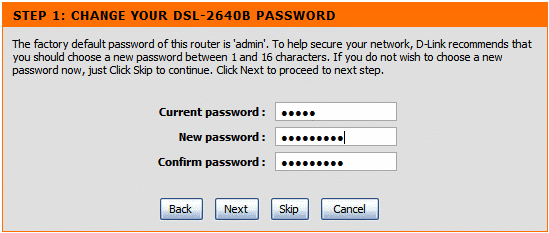 5. On the Select Internet Connection Type screen choose United Kingdom as the Country and Others as the ISP Provider and click 'Next':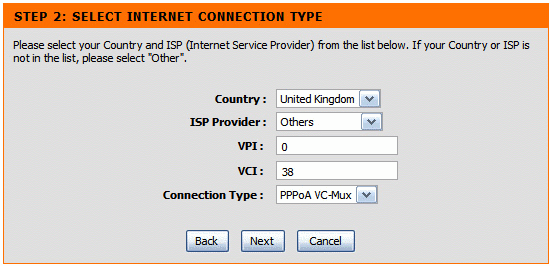 6. Enter your broadband username and password, confirm the password and click 'Next':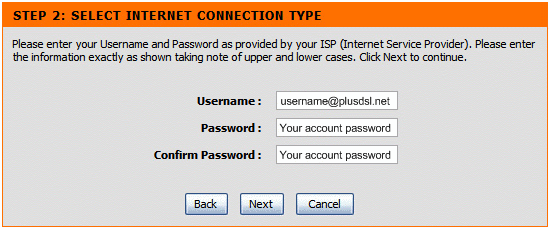 7. Finally click 'Restart' to reboot the router:

8. Once the router has restarted it will connect to the internet. To confirm this the 'Internet' light on the front of the router will turn solid green.
Configure wireless security
1. Open your web browser and browse to 192.168.1.1 and log in. The default username and password are both admin.
2. Click 'Wireless Setup' on the left side of the 'Setup' page to access the wireless settings and click the 'Secure My Wireless Network' button: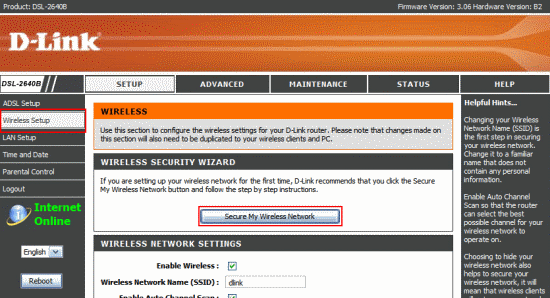 3. On this screen you can change or hide the 'Wireless Network Name'. If you find that your wireless signal is poor changing the 'Wireless Channel' may improve this.
By default encryption is set to none, we recommend changing this to WPA-PSK as this is the most secure method. Choose a WPA Key and enter it in the box below. A WPA Key is like a password. Once set you'll need to use this with any computer or games console you want to connect to your wireless network.
Once you've finished click 'Apply Settings':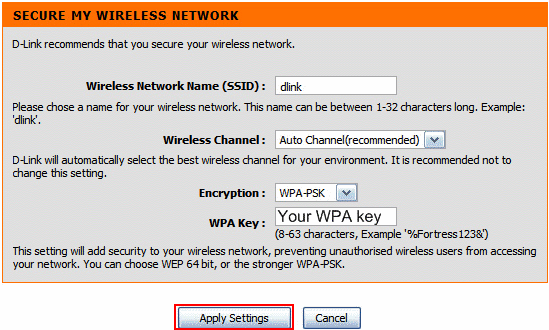 4. Once the settings are applied you'll need to connect to the router again.
5. Use your wireless adapter's connection utility to scan for available networks. Your D-Link DSL 2640B will show up as the 'Wireless Network Name' you entered above (or dlink if you left it unchanged). Select your network and press connect: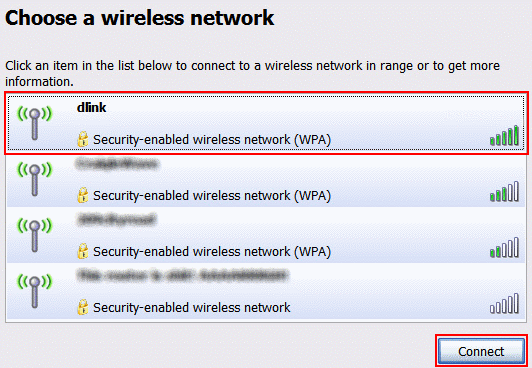 6. You'll be promted for the password you created in step 3.
Enter, confirm this and press 'Connect' to log on to your wireless network: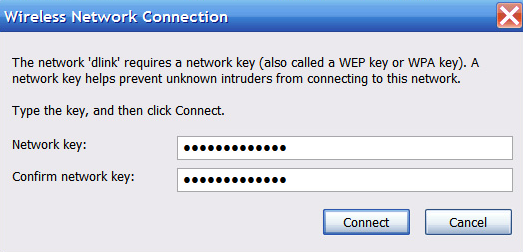 What to do if you're having problems getting connected
If you're having problems after setting up, read our troubleshooting guide.
The following table explains what the modem's status lights mean:
| Power Light | Status |
| --- | --- |
| Off | Router not powered, check power cable and button. |
| Red | Router is starting up, should turn green after a short while. |
| Green | Router is powered up. |
| DSL | Status |
| Off | No DSL cable connected. Microfilter or phone line problem. |
| Blinking Green | Router is attempting to connect to the local telephone exchange. |
| Green | Connection is OK. |
| Internet | Status |
| Off | No device connected. |
| Green | Device connected. |
| LAN (1-4) | Status |
| Off | No device connected. |
| Green | Device connected. |
| Flashing Green | Device sending / receiving data. |
| WLAN | Status |
| Off | Wireless not configured. |
| Green | Wireless configured. |
| Flashing Green | This shows it is operational and transferring data. |
This is an archived article and may contain information that's not up-to-date - more info
Was this article helpful?
Thanks!
Thanks. Your feedback is really appreciated and helps us to improve our help and support.