Skip to main content
How to set up your Plusnet router - Hub Two
A step-by-step guide on connecting your Plusnet Hub Two router.
If you've got Full Fibre your router will be plugged into an Openreach Optical Network Terminal (ONT) not a phone socket. The ONT is the small box our engineer installed inside your home when we set up your service.
This is an example of an ONT: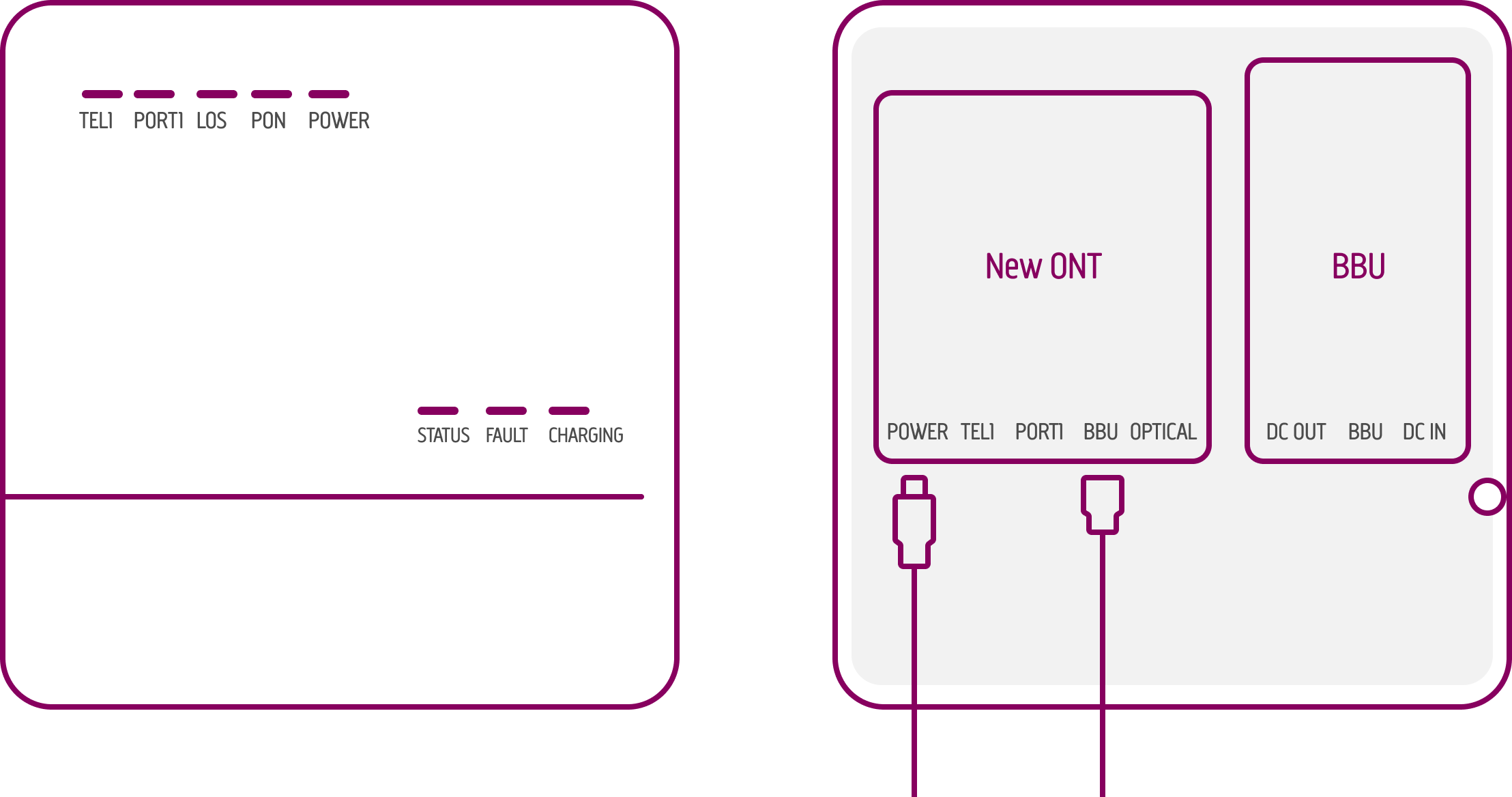 Don't forget, you can also confirm your current broadband package by checking your welcome email or signing in to My Account.
How to set up your Plusnet Hub Two router
We sent you a lovely box of goodies, so here's a check list of what you'll need to get set up:
If you're new to Plusnet, please wait until we've activated your broadband before you set up your Hub Two. We'll let you know by email and text (if we have your mobile) when you're good to go.
If this is a replacement hub for an existing Plusnet service, you can get started straight away.
Where you set up your hub can make a big difference to your broadband service:
1. Use the master socket
If you can, connect your hub to the master phone socket (it's usually the one closest to where the phone line enters your home or business premises).
Home broadband customers will usually find it in your living room. Plug your hub in there. It will make it happy.
2. Avoid the kitchen
Kitchens are a place for cooking, creativity and attempting to recreate something you've seen on TV.
They're not a great place for your wireless hub. Electronic appliances and metal surfaces can disrupt your signal, while microwaves use the same channel and will get in its way.
Too many chefs spoil the broth. Too many kitchen appliances will spoil your broadband.
3. Place it centrally
Your hub needs cool air flow, so don't place it on top of electrical equipment, or under a desk, on a carpet, or behind large objects.
Think of your hub like a sprinkler, spitting out broadband signals in all directions to cover your home. The more centrally you place it, the more of your home will be covered.
If you put it near a window, it will broadcast signals outside. Put it somewhere centrally and enjoy a good signal all the way around.
4. Avoid walls
If you've ever tried to talk to someone in a different room, you'll know how hard it is to get your message across. It's the same with broadband. Thick walls will absorb your signal and reduce the quality of your connection.
Try to place your hub somewhere that people walk through often, meaning the doors will be open and your broadband signal will have free passage to the rest of your home, or premises.
5. Avoid electrical items
Your home or business is full of radio signals. Mobile phones, baby monitors, alarms, answer machines and radios (obviously) will all try and compete with your broadband connection. Keep your hub away from them to give your signal the room to breathe.
6. Don't put it on the floor
If your hub is on the floor, your broadband performance will go the same way as its signal - down. Place it on a shelf or on top of a cabinet to achieve a better coverage, while also reducing the risk of any unfortunate 'foot vs router' accidents.
7. Fear the fish
Fish tanks are full of water. That's great news for any fish you might have, but bad news for your Wi-Fi signal, as it'll struggle to get through.
Mirrors are also trouble, as they reflect the signal causing it to get distorted. Shiny surfaces in general should be avoided, unless you want to check out how great you look.
8. Experiment
Your hub might take a bit of time to find somewhere it's comfortable. Try different locations to see where you get the best signal strength and stability. If you're using Wi-Fi it's best to set it up close to where you'll be using broadband the most.
9. Leave your hub switched on
Your broadband will work better if you leave your hub switched on all the time, even when you're not using it.
Remember – if you're a new customer, please wait until we've sent you a message to confirm your broadband service is ready before you set up your hub
1. Plug your Hub Two into your master phone socket
Plug the broadband cable (grey ends) into your hub and the other end into your master phone socket.
If you've got a single socket you'll need to use the filter, which is included in the box we sent you.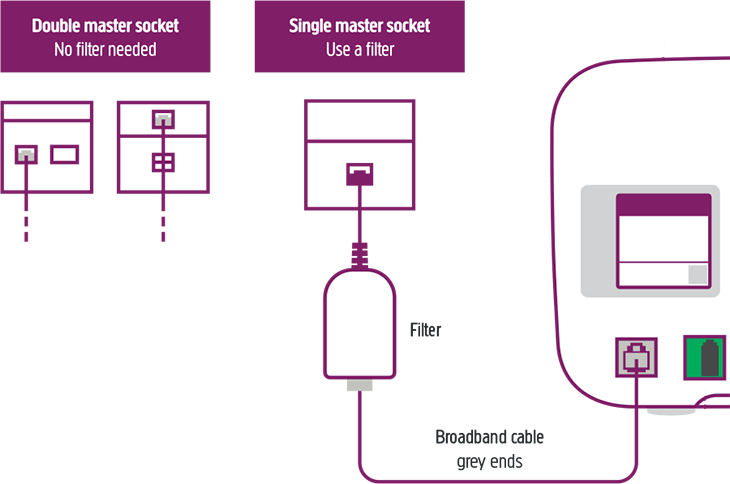 2. Connect your power supply to your hub and a mains socket
Slide the two parts of your power supply until they click into place. Connect your hub and press the Power button. After about three minutes, a blue light will show that your hub's ready.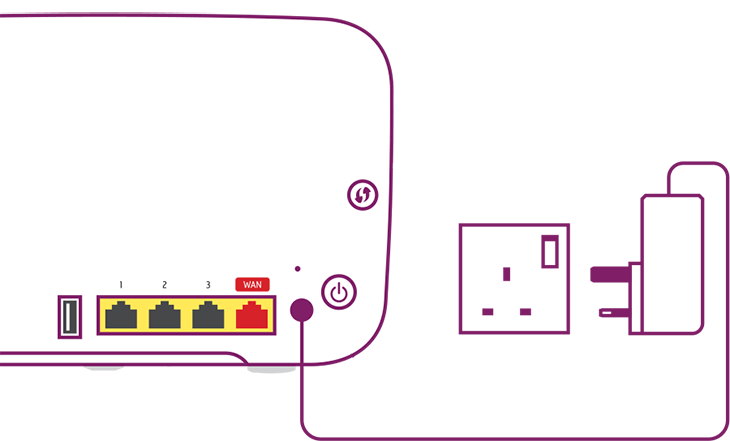 3. Connect your devices
Use your hub's wireless network name and password to connect your devices to the Internet. There's a handy settings card on the back of your hub. This easily slots out, and you'll find all the password info there. They're also on the password sticker we sent you.
To save you typing in the details, you can also use the camera on a phone or tablet device to scan the QR code.
Another way to get connected is to use Wi-Fi Protected Setup (WPS) if your device supports it. Just press the WPS button on the side of your hub (it will flash blue) and then follow your device's instructions to connect.
You can also connect devices to your hub using the Ethernet cable with the yellow ends. Plug one end into your device and the other end into one of the Ethernet ports on the back of your hub.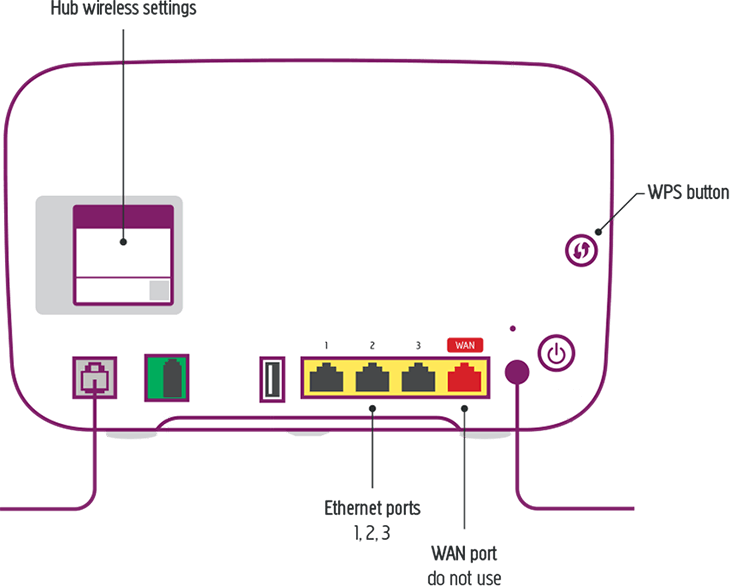 Here's a quick summary of the set up:
Plug your Hub Two into your master phone socket
Connect your power supply to your hub and a mains socket
Connect your devices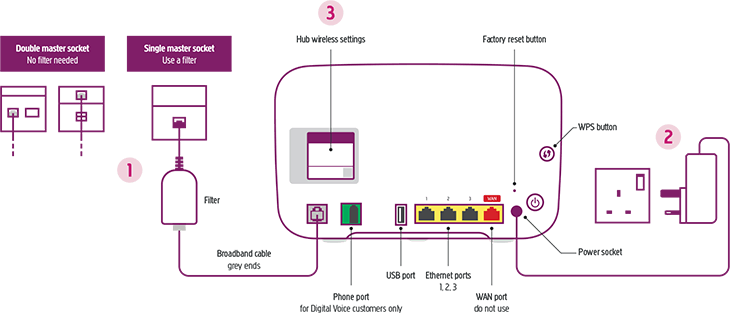 If you think there's an issue with your Hub Two, follow these steps and then check the lights to see what's wrong.
First, check everything's plugged in, then switch your computer and other devices off and on again.
What your hub lights mean
If this doesn't work, have a look at the table below for what the lights mean and what to do next.
To view your Hub Manager, open a new browser window e.g. Chrome, Firefox or Safari and type in 192.168.1.254.
Here you can manage your hub settings and change things like your Wi-Fi name and password. You'll need the hub admin password to access and change some of the settings. You'll find this on the back of your hub or on the password sticker.
If you're having problems with your broadband then try clicking the Help tile on the Hub Manager Home page.
Don't worry, our troubleshooting video guide below will take you through a few simple checks.
If you're upgrading to a Full Fibre package and using a standard Plusnet Hub Two router, you'll need to make a few changes to your hub set up.
We'll take you through these easy to follow steps to get you up and running:
Disconnect the broadband cable with grey ends. If you're using a micro-filter this can also be unplugged
To set up your Hub Two for Full Fibre you'll need to use the Ethernet cable with yellow ends. 
Connect one end of the Ethernet cable into the red WAN port on the back of your hub. Then plug the other end into the Openreach ONT PORT1/LAN 1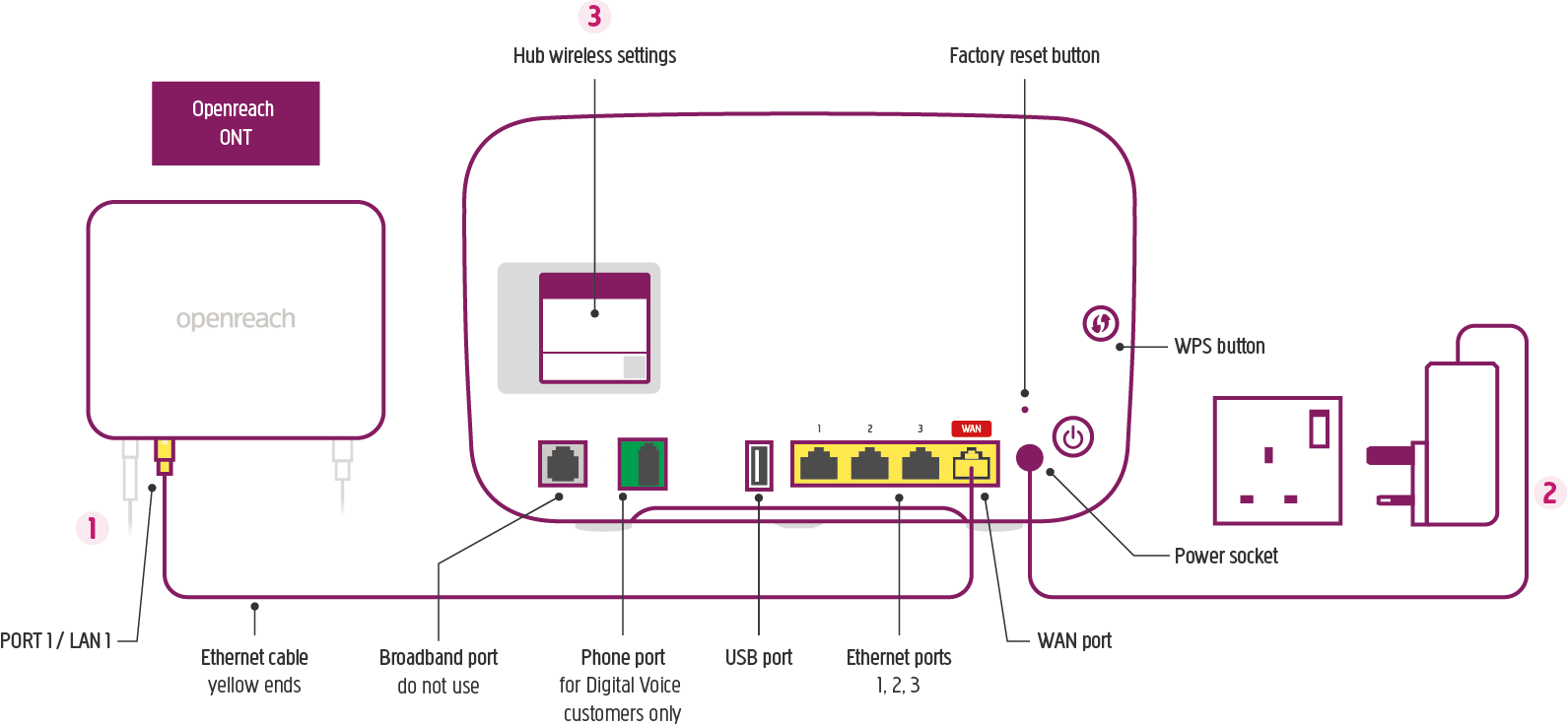 Check your Hub and ONT are connected to a power supply
After about three minutes, a blue light will show that your hub's ready
If you were using the yellow-ended Ethernet cable to connect a device to your Hub, you'll now need to connect it using an additional Ethernet cable, or use a Wi-Fi connection.
To help you to get the best speed and quality from your connection, any new Ethernet cables you use will need to be a CAT5e or CAT6. This will be clearly labelled on the cable. 
Ethernet cables are available from IT equipment retailers and BT Shop have lots of low price options to choose from.
Manage your billing, packages and account details.
Manage your billing, packages and account details.
We have a huge community of customers and tech experts who can help you.
We have a huge community of customers and tech experts who can help you.