Skip to main content
Full Fibre Broadband problems and how to fix them
All the info you'll need to fix basic issues with your Full Fibre Broadband.
Something wrong with your Full Fibre connection?
There's a few simple checks you can do before getting in touch with us.
If you think there's an issue with your connection, it's a good idea to try switching your hub off and back on again to see if it helps restore service.
Wait five minutes or so after powering it back up and recheck the connection.
If you're having problems with your hub or you've accidentally changed a setting you think might have broken something, then it might be worth trying a factory reset. Use a paper clip, pen, or something pointed to press in the reset pinhole button on the back of the hub.
Keep the button pressed for 20 seconds. The lights on the front of your hub will eventually flash or change colour. After releasing the reset button, your hub will go through a sequence similar to what you would expect if you had just powered it on.
Wait five minutes or so after powering it back up and recheck the connection.
Keep in mind that if you do this, it'll completely restore your hub to the settings it had when it arrived. So if you've made specific changes to your settings, they'll need to be made again.
Check your Hub
Check all cables are firmly plugged in. The Ethernet cable (red ends) must be plugged into the red WAN port on your Hub and the other end into the Openreach ONT PORT1/LAN1. Make sure the power cable is connected to your Hub and the power supply.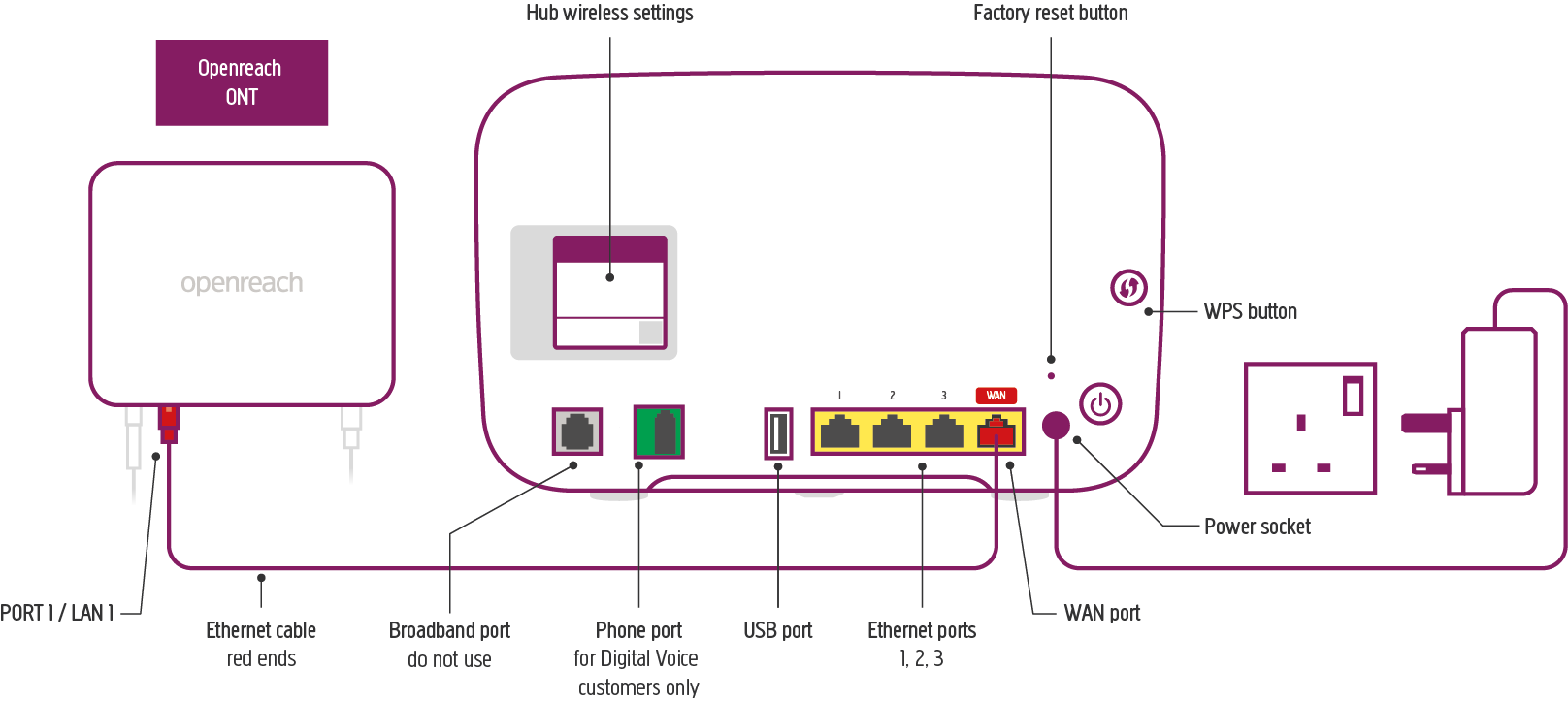 If you're still having problems, then switch your computer and devices off and then on.
Try switching your hub off and then on.
Try switching the Openreach ONT (Optical Network Terminal) off and then on.
Check the lights on the ONT:
The light labelled PON should be green
The light labelled LOS should be off
Hopefully this has now fixed the problem you were experiencing.
If not, there may be an issue with your broadband service. Please get in touch to report a problem.
If you've upgraded to a Full Fibre package and using a standard Plusnet Hub Two router, you'll need to make a few changes to your hub set up.
We'll take you through these easy to follow steps to get you up and running:
Disconnect the broadband cable with grey ends. If you're using a micro-filter this can also be unplugged
To set up your Hub Two for Full Fibre you'll need to use the Ethernet cable with yellow ends
Connect one end of the Ethernet cable into the red WAN port on the back of your hub. Then plug the other end into the Openreach ONT PORT1/LAN 1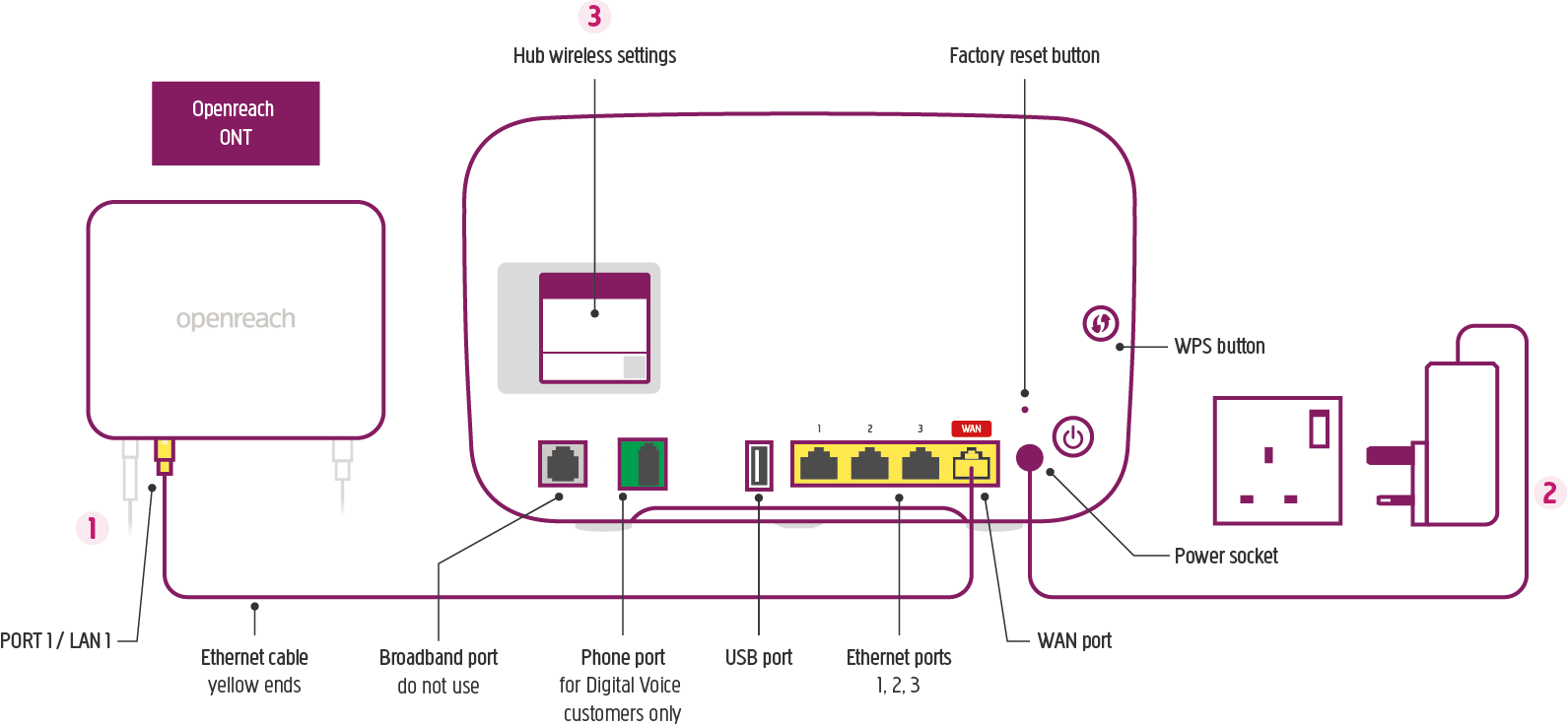 Check your Hub and ONT are connected to a power supply
After about three minutes, a blue light will show that your hub's ready
If you were using the yellow-ended Ethernet cable to connect a device to your Hub, you'll now need to connect it using an additional Ethernet cable, or use a Wi-Fi connection.
To help you to get the best speed and quality from your connection, any new Ethernet cables you use will need to be a CAT5e or CAT6. This will be clearly labelled on the cable.
Ethernet cables are available from IT equipment retailers and BT Shop have lots of low price options to choose from.
Moving your router won't make your Internet connection faster, but it should make it more reliable and stable – which can be important when it comes to streaming, video calling or online gaming.
Below are six simple steps to help improve your wireless Internet signal:
1 - Find a central location
Wireless broadband routers transmit from all directions in a circle. This means the more centrally you can place it, the better your overall coverage will be. Putting your router near a window means that you're broadcasting outside as well as inside, and sending some of your strongest broadband connection – quite literally – out the window.
2 - Avoid the kitchen
Aside from the risk of spilling something sticky onto your router, it's not advised to place it anywhere in your kitchen. As routers use radio signals to operate, electronic appliances and large metal surfaces can absorb and disrupt your signal – microwaves in particular use the same 2.4Ghz channel as Wi-Fi routers, so will actively compete with your wireless signal when used.
3 - Avoid walls
Thick walls make it harder for your home or business internet to be passed from room to room, as walls absorb wireless signal and will reduce the quality of your broadband. Try to place it near open doorways (somewhere with a lot of footfall like your front room or main office area for example), as this will allow your broadband signal unobstructed passage to the rest of your home or premises.
4 - Don't put it on the floor
Try and position it on a shelf or table. Wi-Fi signals go down as well as up, so if you put it on the floor, a proportion of the signal will go through the floorboards.
5 - Avoid mirrors, windows and fish tanks
It sounds strange, but water can absorb the Wi-Fi signal, reducing the distance it can travel. Placing it near a mirror will also cause the wireless radio waves to reflect, which can have a negative impact on performance by scattering and distorting the signal. It's not just mirrors, either. Be wary of stainless steel countertops, filing cabinets, or any other flat, reflective surfaces.
6 - Avoid electronic items
Be aware of the effect of common electronic items within the home or office when setting up your broadband. Cordless phones, baby monitors, televisions, alarms and other devices that use radio signals to communicate are especially problematic, as these devices will crowd the channel and compete with your broadband connection.
Full Fibre installations include an Openreach ONT (Optical Network Terminal). This is the white box set up inside your property and allows us to run a fibre connection straight to your home. Your hub should always be connected to the Openreach ONT. There's different types of Openreach ONTs. They all work in the same way, but the type and number of lights may vary. The diagrams below will help you to identify the ONT you've got installed.
Huawei 1-port modem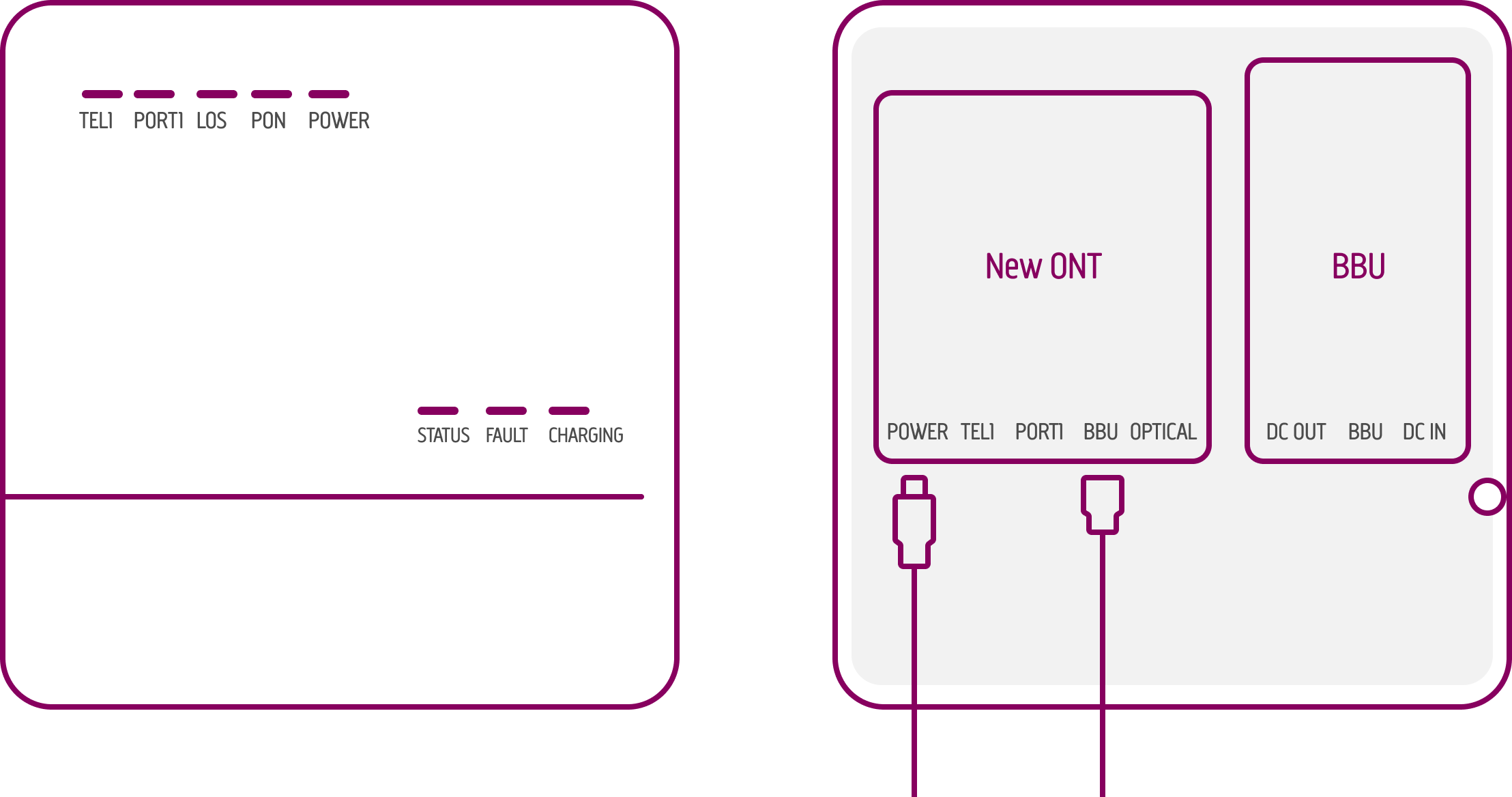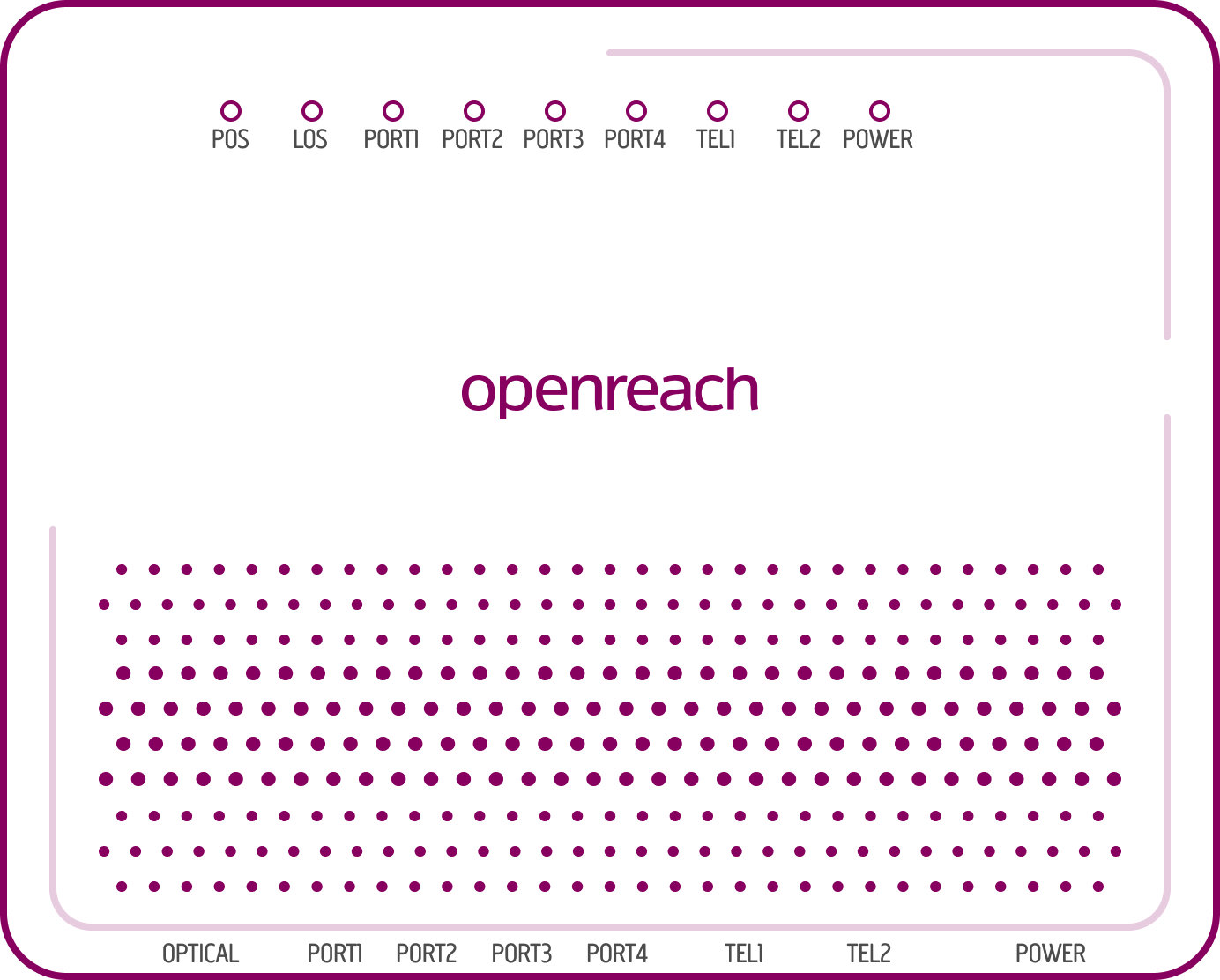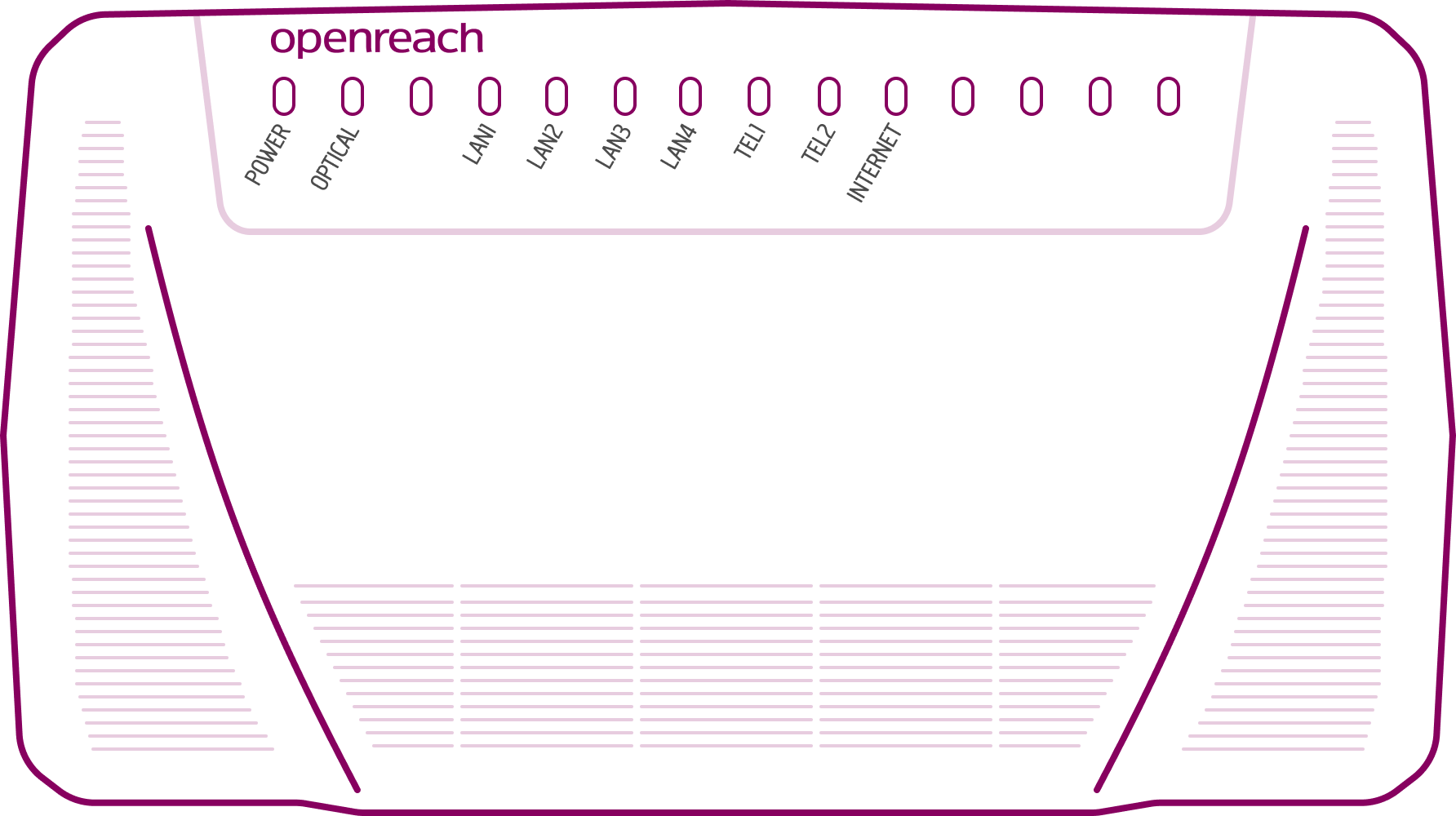 When the lights on the Openreach ONT change colour or flash, it means something's happening.
The tables below explain what the Openreach ONT lights mean and what to do next.
POWER light

| Status | Meaning | What to do |
| --- | --- | --- |
| Green | Openreach ONT is on. | Check the PON and LOS lights. |
| Off | Openreach ONT is off. | Check it's plugged into the power supply. |
PON and LOS

| Status | Meaning | What to do |
| --- | --- | --- |
| PON solid green. | Fibre optic link to BT Exchange is working and recognises your Openreach ONT. | Check the connection at both ends of the Ethernet cable between the Openreach ONT and your hub. Try a new cable if needed. |
| PON flashing and LOS off. | Openreach ONT is communicating with the BT Exchange. | Wait until light turns solid green. |
| PON off, or PON and LOS both flashing. | Fibre optic cable isn't connected or there's a problem between your property and the BT Exchange. | Check that the thin white fibre optic cable coming into your Openreach ONT is fully inserted and not damaged. Turn the Openreach ONT power off, then back on and wait five minutes to let it reconnect. |
PORT1 - PORT4

| Status | Meaning | What to do |
| --- | --- | --- |
| On (any) | Ethernet connection is normal between the Openreach ONT and your hub (Port 1 is where the engineer will install your connection). | There may be a connection problem - check your hub. |
| Flashing | Data is being transmitted through the port. | There may be a connection problem - check your hub. |
| Off (all) | Ethernet cable isn't plugged into your hub or may be broken. | Check the connection at both ends of the cable. Try new cable if needed. |
Optical

| Status | Meaning | What to do |
| --- | --- | --- |
| Green solid | Connected | Check the connection at both ends of the cable between the Openreach ONT and your hub. Try a new cable if needed. |
Report a problem
Still having an issue with the Openreach ONT? Just report a problem, and our Faults Team will look into this for you.
Some Full Fibre set ups may include data extension sockets. These are connection points which are installed in your home or business premises that can be used for connecting Ethernet devices to your router from another room.
These sockets may already be installed in your property as part of a new build development that's Full Fibre ready.
Some data extensions may allow Ethernet connections in multiple rooms through your internal wiring, or have your router connected in a different room to the ONT.
For example, your ONT is installed under the stairs and plugged into a data extension socket next it to. This would connect to another data extension which is in your living room. Your router would plug into the extension socket in your living room which would then connect back to the ONT.
With advance technology and building developments there's now lots of ways extension sockets could be installed: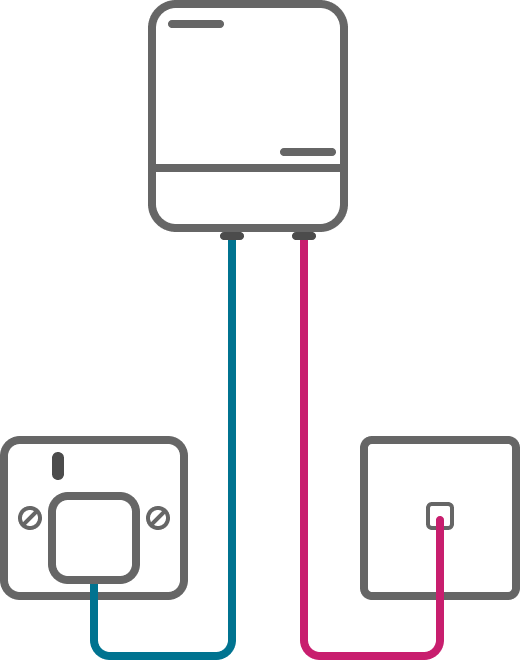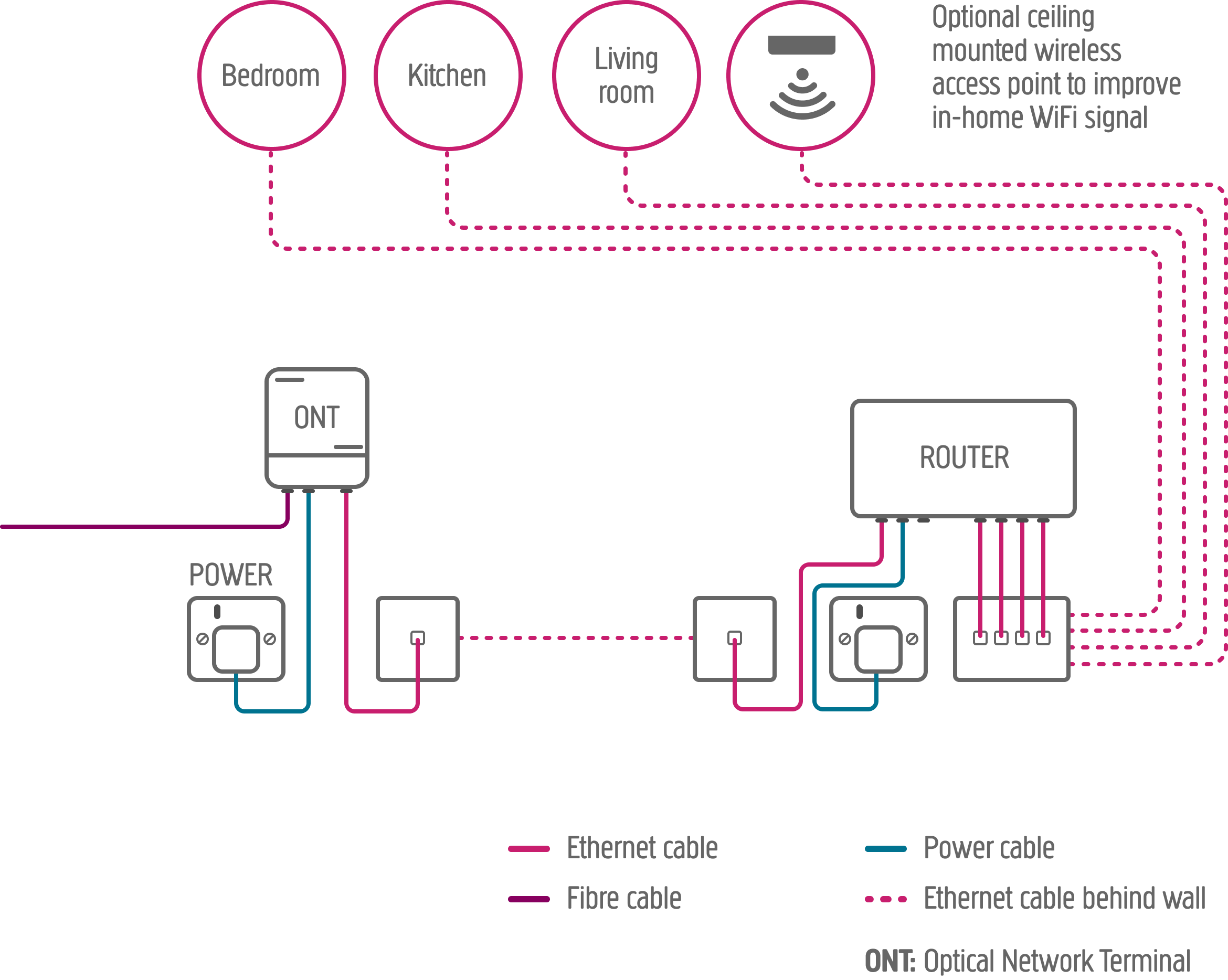 Please Note - Whilst we can support and help with connection issues with your Plusnet router and Openreach ONT. All internal wiring and extension sockets beyond the ONT are the responsibility of the developer or property owner.
For the strongest Wi-Fi connection, it's best to put your hub:
Out in an open space in your home or office, that's not on the floor
Close to your computer (somewhere central in your home or office is best)
Away from any thick walls, metal objects or electrical appliances
Don't worry if you can't do them all, but do as many as you can.
Try more tips for getting a better Wi-Fi signal.
Your devices can slow down your Wi-Fi speed
Don't forget, if you've got lots of devices connected such as smartphones, tablets, laptops and games consoles, you share your Wi-Fi speed with all of them.
Much older devices can slow things down too.
There's a few of things which might help:
Don't connect too many devices to your hub as it may slow your broadband down
If you've got a TV, console or PC use an Ethernet cable for a more reliable connection
Try testing your Wi-Fi with more than one device – this will allow you to see if the issue is with your device rather than your broadband service
Speed tests
Remember any speed tests you run are limited by the speed of your device. For the best results make sure you're connected directly to your router with an Ethernet cable.
What is bandwidth?
Without getting too technical bandwidth describes the maximum amount of data that can be sent over a network or Internet connection. Simply put, how fast a device can transfer data on the network.
Why's this important?
Your connection is divided between any active devices that are uploading or downloading data. The more devices using your connection, the smaller the share of bandwidth being divided between them.
The slower your connection the quicker you'll see the effect of this.
Think of it like a motorway, you can have a really fast car, but if the motorway is very busy you can only go as fast as the traffic will allow.
Here's some examples of devices which use lots of bandwidth:
Streaming devices like Chromecast, Fire TV, and Roku
Games consoles
Mobile Network signal boosters (signal boxes)
Smart Speakers  - Google Home, Amazon Echo, Apple HomePod
Home Automation systems, such as Smart Lights
Try another device
If you're having trouble with your broadband speed the device you're using could be the cause of the slow speed. If possible try using another device to see if you're having a similar problem on that one too.
If there's still an issue you can check your speed using our broadband performance tester. 
Do I need to do anything before I run the speed test?
There's a couple of things you'll need to do to get the best results. You'll need to use a laptop or desktop to run the test, so if you're on an iPhone or iPad you should switch to a computer. Then:
Close any other windows you've got open on your computer
Turn off your firewall and antivirus software if you can. But don't forget to turn them back on again when you're done
Shut down as many programmes as you can
Switch off anything else that's connected to your router, like other computers, consoles or devices
Connect to your router using an Ethernet (wired) connection and switch off the Wi-Fi on your computer. If the speed test results are okay when you're using the cable, it could be the Wi-Fi that's causing the issues
How do I run the test?
Open up a web browser (like Internet Explorer, Safari or Firefox) and go to speedtest.btwholesale.com
Check out the handy tips before you start

If you're testing 500Mb/1000Mb product speeds please also follow the guidance in the 'click here' section

When you're ready select 'GO'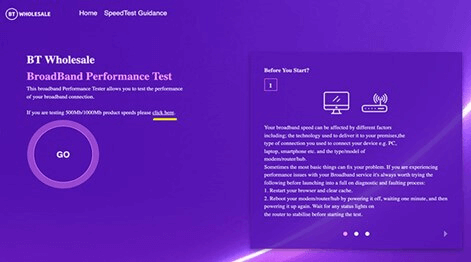 The test will start. When it's all done, you'll be shown your ping, download and upload speeds. We'll need you to do the test three times in one day. You should do one of these between midnight and 4pm. Make a note of the results each time

If you've reported an issue we may sometimes need to run a more advanced speed test or extra diagnostics. One of our advisors will help with this and provide all the information you'll need to enter on this screen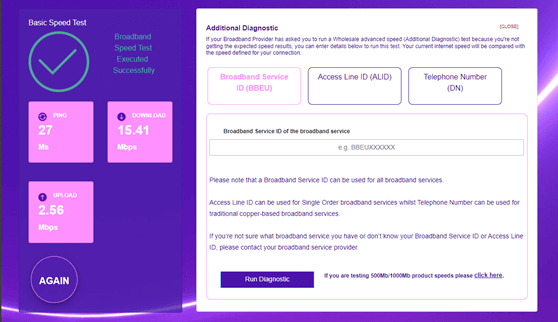 Manage your billing, packages and account details.
Manage your billing, packages and account details.
We have a huge community of customers and tech experts who can help you.
We have a huge community of customers and tech experts who can help you.