Skip to main content
How to set up your Plusnet 2704n router on Fibre 
A step-by-step guide on connecting your Plusnet 2704n router on fibre.
How to set up your Plusnet 2704n router - Fibre
As well as your set-up guide, you should have:
your router
a power supply (this'll come in two parts)
two Ethernet cables (one with yellow ends and another with red)
your reference card
a BT Openreach modem
a master socket
Your engineer should've given you your modem and master socket when they came to install your broadband.
When you get your Plusnet Hub, it's understandable that you want to get things up and running as soon as possible.
But patience is key. The placement of your wireless router can seriously impact the quality and reliability of your broadband. Electrical interference, walls and even fish can all affect your browsing experience.
Put it somewhere sensible and you'll have many solid, stable, connected years together.
1. Avoid the kitchen
Kitchens are a place for cooking, creativity and attempting to recreate something you've seen on TV.
They're not a great place for your wireless router. Electronic appliances and metal surfaces can disrupt your signal, while microwaves use the same channel and will get in its way.
Too many chefs spoil the broth. Too many kitchen appliances will spoil your broadband.
2. Place it centrally
Think of your router like a sprinkler, spitting out broadband signals in all directions to cover your home. The more centrally you place it, the more of your home will be covered.
If you put it near a window, it will broadcast signals outside. Put it somewhere centrally and enjoy a good signal all the way around.
3. Avoid walls
If you've ever tried to talk to someone in a different room, you'll know how hard it is to get your message across. It's the same with broadband. Thick walls will absorb your signal and reduce the quality of your connection.
Try to place your router somewhere that people walk through often, meaning the doors will be open and your broadband signal will have free passage to the rest of your home.
4. Keep it out in the open
Not only are walls bad news, but so are shelves, bookcases and desks. Blocking your router can have a bad effect on your broadband signal. Keep it visible, proud and fabulous for the best results.
5. Avoid electrical items
Your home is full of radio signals. Mobile phones, baby monitors and radios (obviously) will all try and compete with your broadband connection. Keep your router away from them to give your signal the room to breathe.
6. Don't put it on the floor
If your router is on the floor, your broadband performance will go the same way as its signal - down. Place it on a shelf or on top of a cabinet to achieve a better coverage, while also reducing the risk of any unfortunate 'foot vs router' accidents.
7. Adjust the antennae
On some of our older routers, you'll need to adjust the antennae to get the best signal throughout your home. As a rule of thumb, if your router is upstairs, position your antennae sideways. If you've got it downstairs, point them upwards.
8. Fear the fish
Fish tanks are full of water. That's great news for any fish you might have, but bad news for your Wi-Fi signal, as it'll struggle to get through.
Mirrors are also trouble, as they reflect the signal causing it to get distorted. Shiny surfaces in general should be avoided, unless you want to check out how great you look.
9. Experiment
Your broadband router might take a bit of time to find somewhere it's comfortable. Try different locations to see where you get the best signal strength and stability.
10. Use the master socket
Your master socket is where your phone lines comes into your house, and it provides the most powerful connection. You'll usually find it in your living room. Plug your router in there. It will make it happy.
Your engineer should've done the complicated stuff for your Fibre Broadband and will need to have finished before you can do anything with your router. What to do next is pretty simple.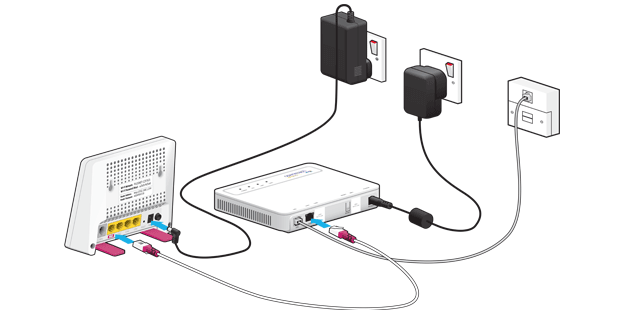 At the bottom of your router, you'll see two little 'feet' to help it stand. Extend them out so it's sitting steady
Put the power adapter together by sliding the plug into the main unit (the black box) until you hear it click into place. Then plug this part into a wall socket, and the other side into the back of your router
Find the Ethernet cable with the red ends. It came with your router. Plug one end into the LAN 1 socket on your Openreach modem. Then plug the other end into the fourth Ethernet socket on the back of the router. It's the one that has a red sticker under it
All that's left now is to switch it on. Do this by pressing the black power button at the back of the router. When the Power light goes green, it's on. But this can take about a minute

Wireless connection
To connect wirelessly, follow the instructions included with your computer, phone or other device to connect to your router via Wi-Fi. If you need help with this, please see our Wireless connection guide.
The Wi-Fi Network (or SSID) you need to connect to starts with PLUSNET and has letters or numbers at the end, e.g. PLUSNET-A1BC
Your Wi-Fi password (or key) is 10 characters long and it's case sensitive, so enter it exactly as shown
You'll find the connection details printed on the back of your router and on the handy reference card included with your router.
Wired connection
If you're using the Ethernet cable (yellow ends) connect it to one of the three available yellow Ethernet sockets on the back of your router.
Connect the other end of the Ethernet cable to the Ethernet socket on your computer or laptop.
This is the easy part. Your router needs a few minutes to configure settings and connect to the Internet. While it's doing this, go make yourself a drink.
Wait for at least 15 minutes before moving on to the next step.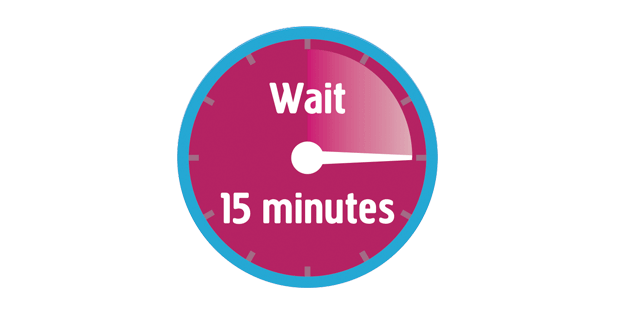 Once you've finished your drink, just open your web browser of choice (e.g Internet Explorer, Safari, Chrome, Firefox) and you should see your home page.
If you've got any questions about your 2704n router, please see our Router user guide.
First of all, take a look at the front of your router. Then follow whichever steps make sense from those below.
The DSL Light is flashing on my modem
This means there's a problem with your Broadband signal. Have a look at our connection troubleshooting guide for help on fixing it.
The DSL light on my modem and Eth 4 light on my router are both green
This means your router is online but your device isn't connected to it. Check and follow the connection instructions in Connect your router and plug it in or our Wi-Fi connection guides and try again.
The Eth 4 and Internet lights are green but I'm only seeing the 'Broadband Setup' page
Good news. Everything's working fine, you just haven't quite finished the set-up process yet. Follow the steps below to get yourself connected.
If you're setting up for the first time or have just done a factory reset, close your web browser down and try again in 15 minutes
If you're getting the same screen again, type in the username and password you use to login to the Member Centre
Use the dropdown to pick the right provider
Click go- in a few minutes, you'll see a green tick. This means you're good to go online
What the lights on your router mean

| Light / Colour | What it means |
| --- | --- |
| Power / off | It's off. Check the cables and make sure you've switched it on at the back and at the wall socket |
| Power / red | It couldn't start up and went into recovery mode |
| Power / green | It's ready to use |
| Broadband / off | It's in Fibre mode. Check the lights on the BT Openreach modem instead |
| Broadband / flashing | There's a problem with the broadband signal. Make sure all the cables and microfilters are plugged in properly |
| Broadband / green | Broadband's detected and working |
| Internet / off | There's no Internet connection |
| Internet / red | The Internet connection isn't working. Try opening your web browser and following the steps on your screen. It might be because you've used the wrong username and password, so double check them and try again |
| Internet / green | It's connected to the Internet |
| Internet / flashing | It's transferring data |
| Wi-Fi / off | Wi-Fi's off |
| Wi-Fi / green | Wi-Fi's on |
| Wi-Fi / flashing | It's transferring data |
| Eth 1-4 / off | There aren't any devices connected with the Ethernet cable |
| Eth 1-4 / green | You've got a device connected using an Ethernet cable |
| Eth 1-4 / flashing | It's transferring data |
| WPS / off | WPS's off |
| WPS / flashing | WPS's on and ready to connect |
What the lights on your BT Openreach modem mean

| Light / Colour | What it means |
| --- | --- |
| Power / off | It's switched off |
| Power / yellow | It's starting up. It should turn green shortly |
| Power / green | It's powered up and ready to use |
| DSL / off | It can't find a broadband signal |
| DSL / flashing green | There's a problem with your broadband connection |
| DSL / green | Your broadband's connected and working |
| LAN 1 / off | It can't find a connection to your router or the Ethernet cable isn't connected |
| LAN 1 / green | The Ethernet cable's connected |
| LAN 1 / flashing | It's transferring data |
Manage your billing, packages and account details.
Manage your billing, packages and account details.
We have a huge community of customers and tech experts who can help you.
We have a huge community of customers and tech experts who can help you.