Skip to main content
Thomson 585 - setup guide
A step by step guide to help you connect to the Internet with your Thomson 585v7 or 585v8 router. This guide can be used with Windows and Apple systems.
As well as your Thomson 585 setup guide, you should have: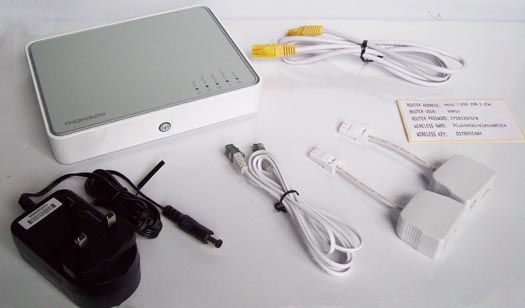 Your Thomson 585 router
Ethernet cable (yellow ends)
Power supply (two-part)
Internet cable (grey ends)
Microfilters
Setup sticker
Plug a microfilter into each telephone socket you use in your property. If you had to unplug something you can plug it back into the Phone socket of the microfilter.
Phone sockets can be used by phones, alarm systems, fax machines and digital TV boxes, so make sure you don't miss anything out. Microfilters are essential for keeping your phone and Internet services from interfering with each other. Without microfilters you'll see poor speeds and connection drops.
You can use a microfilter before or after an extension lead, but not both
You can connect two devices to one microfilter if you use a phone adapter
If you need more microfilters, you can get them from most electrical stores and supermarkets
Don't plug a microfilter into the socket of another microfilter
Assemble the power adapter by sliding the smaller three-pin plug onto it until it clicks into place, as shown.

Once assembled, connect it to the mains and the power socket on the back of the router.

Switch the router on using the circular black button next to the power socket (this may be on the left or right side).

Wait for the power light to turn green before you continue

.

Plug the Internet cable (grey ends) into the microfilter socket marked ADSL

Plug the other end of the Internet cable into the grey DSL socket on the back of the router.

The Broadband light will flash, wait for it to turn green before you continue (this can take up to 5 minutes).

If it won't turn green, take a look at our help guide
Wireless connection
To connect wirelessly, follow the instructions included with your computer, phone or other device to connect to your router via Wi-Fi. If you need help with this, please see our Wireless connection guides.
The Wi-Fi Network (or SSID) you need to connect to starts with PlusnetWireless and has letters or numbers at the end, e.g. PlusnetWirelessA1B2C3
Your Wi-Fi password (or key) is 10 characters long and it's case sensitive, so enter it exactly as shown
You'll find the connection details printed on the bottom of your router and the setup sticker.
Wired connection
If you're using the Ethernet cable (yellow ends) connect it to any of the four yellow Ethernet sockets on the back of your router.
Connect the other end of the Ethernet cable to the Ethernet socket on your computer or laptop.
This is the easy part. Your router needs a few minutes to configure settings and connect to the Internet. While it's doing this, go make yourself a drink.
Wait for at least 15 minutes before moving on to the next step.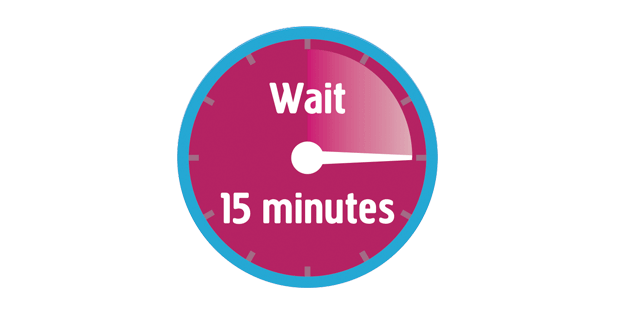 Once you've finished your drink, just open your web browser of choice (e.g Internet Explorer, Safari, Chrome, Firefox) and you should see your home page.
First of all, take a look at the front of your router. Then follow whichever steps make sense from those below.
My broadband light is flashing.
This means the problem's with your broadband signal. If you're setting up for the first time, make sure we've let you know your broadband service is ready. If we have, check your microfilters and the connection between the router and your phone socket. If the Broadband light is always flashing, have a look at the steps in our connection troubleshooting guide.
My Broadband and Internet lights are green but I'm only seeing the 'Broadband Setup' page
Good news. Everything's working fine, you just haven't quite finished the set-up process yet. Follow the steps below to get yourself connected.
If you're setting up for the first time or have just done a factory reset, close your web browser down and try again in 15 minutes
If you're getting the same screen again, type in the username and password you use to login to the Member Centre
Use the dropdown to pick the right provider
Click go - in a few minutes, you'll see a green tick. This means you're good to go online
My Broadband light is green but I'm only seeing a 'Welcome page'
Click Set up my Thomson Gateway.

If you're asked to enter a password, use the details shown on the setup sticker (Router User & Router Password) and remember that your username and password are Case sensitive.

The Easy Setup wizard will open in a new window, click Next.

On the Service Selection screen, choose Plusnet or Data (Default) (depending on what's available) and click Next.

Only choose Other or Data (Custom) if you want to use No-NAT or other advanced setup options.

On the Router Internet Connection screen, if the options are available, set VPI/VCI to 0.38 and set Connection Type to PPPoA (UK Default).

Enter your Broadband Username and password and click Next.
Now choose the type of wireless security you want to use. We recommend leaving this as WPA-PSK - it's the most secure method. Click Next

Next choose a Username and Password, this is to secure your router

You should choose something that's easy to remember as you'll need these details to check or change your router settings in the future. If you don't make any changes then the Username will be Administrator and the Password will be the Serial Number on the bottom of your router.

When you've made your choice click Next

Finally you'll see the Start Configuration screen which shows a summary of the settings you've entered so far. Check through them to make sure everything is correct

Use the Back button if there's anything you need to change

Press Start to finish the setup wizard and connect to the internet

After about a minute the Internet light on the router will go green and you'll see a confirmation screen, click Finish

That's it! You're now connected and able to browse the Internet
Manage your billing, packages and account details.
Manage your billing, packages and account details.
We have a huge community of customers and tech experts who can help you.
We have a huge community of customers and tech experts who can help you.